Broadcast News
12/03/2013
XL Video At The BRITs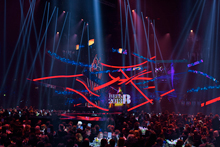 XL Video provided this year's BRIT Awards at London's O2 Arena with LED screens, projection, camera, PPU and screen management system.
It's the eleventh consecutive year XL (and Production Manager Paul Wood) have been involved as Video supplier for the Awards, again working with BRIT Awards Productions (Papilo) and BRITs TV.
Peter Bingemann's set design included a dynamic backdrop of three dimensional Ribbons of varying sizes, half of which were simple light boxes and half were "Video Ribbons" using a total of 120 square metres of Pixled FX-11 LED tiles to fill them.
The main stage screen – which flew out to allow band entrances and exits - was made from Absen 6 mm LED and measured 6 metres wide by 10 metres high.
During band changeovers, a 6 metre wide by 3.5 metre high 'closedown' screen built from Lighthouse 12mm LED screen and 3 video ribbons flew in downstage whilst Awards were presented on the B Stage in the middle of the audience.
For pop group One Direction's performance, XL supplied the two LED screens needed for an oversized scenic pinball machine on which the group performed. A five metre square section of Barco NX6 (6 mm resolution) formed the Scoreboard, and the playfield floor was made up of Pixled F12 (12mm resolution) 3 metres wide by 6 metres high.
Two eight metre wide by 4.5 metre high Lighthouse  R7 screens were supplied in the standard stage left and right positions, with four 16' x 9' 'repeater' projection screens  positioned around the O2 Arena to ensure that everyone had a good view of the stage action and nominations' packages.
www.xlvideo.tv
(IT)
Top Related Stories
Click here for the latest broadcast news stories.