Broadcast News
02/07/2018
LED Creative Deploys LED Systems For James Corden Talk Show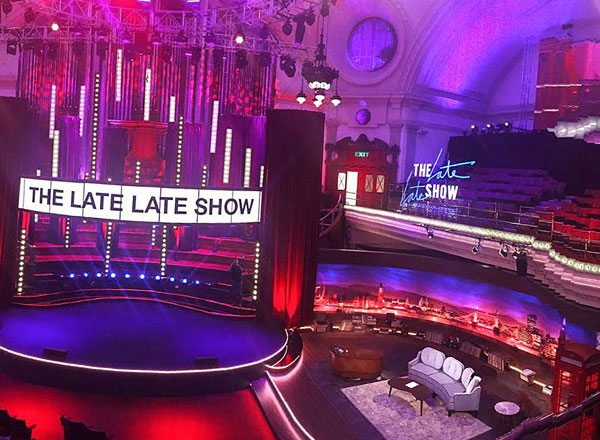 LED Creative has deployed its LED and control systems to help support the London run of James Corden's US talk show.
The company supported Set Designer Rudi Thackray and Lighting Director Gurdip Mahal.
Making a welcome return to the Central Hall Westminster, 'The Late Late Show with James Corden' once again staged its mix of interview, sketches and live performance in front of a studio audience.
With a set designed to mirror the feel of the US show, Rudi Thackray perfectly re-created the look with plenty of vibrant, bold colours, which perfectly complemented the lighting installation and provided the ideal juxtaposition against the backdrop of the Central Hall.
One of the key features in the design was the inclusion of over 40 LED Creative Sigma Pulse Wands, which Mr Thackray cleverly positioned throughout the set to provide additional colour, shape and movement. Quick to install and easy to control, Pulse Wands are part of the LED Creative Sigma range offering precise, individual pixel accuracy controlled either directly from a lighting console or pixel mapping via a media server. Available as pre-packaged comprehensive rental kits, the system proved the ideal solution to compliment the neon-like effervescence of the Westminster Hall installation.
Commenting on the support from LED Creative, Mr Thackray said: "Our thanks go out to Ges and the team for bringing in some new LED elements to the set - really added the extra sparkle. As ever, they've made things easy for us and the whole crew, with that 'never say no' attitude."
Speaking about the production, LED Creative Director Ges Smith added: "It's fantastic to be back at Central Hall with Rudi and the team on such a high profile project. The Late Late Show has a colossal global audience and the crew have done a stunning job creating a fabulous setting at this unique venue."
www.led-creative.co.uk
Top Related Stories
Click here for the latest broadcast news stories.