Broadcast News
28/08/2014
XL Video Supplies LED Screens To Massive Attack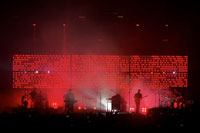 XL Video has renewed its relationship with Massive Attack, supplying LED screens and d3 media servers for the band's recent festival tour which featured a video concept co-designed by UVA and Icarus Wilson-Wright in conjunction with the band's 3D (Robert Del Naja).
Massive Attack are well known for their innovative and original use of video to reinforce the message of their music and their immersive and visceral live shows. They use video to engage audiences on a cerebral level as well as delivering great music. Sometimes controversial, always passionate and heartfelt, their message and exploding some of the myths and realities of mediated propaganda circulated in daily news … is at the essence of any Massive Attack show.
The band have been developing their own highly distinctive text based style of video content ever since first incorporating the visual medium into their show well over a decade ago, and XL has worked with them for most of that time. This aesthetic also gives them the opportunity to translate text into the local language/s for each show, a simple move that makes a massive impact wherever they play.
This tour was project managed for XL by Phil Mercer and Steve Ackein.
The initial brief for the tour's video design were that it should be flexible and have high impact for a mix of festivals and own show headliners. It was important for the look the band wanted that the screen be semi-transparent and through-lit from behind to bring another spacial dimension to the stage.
Wilson Wright explains that they decided the video product most suited to their needs was XL's new Radiant MC-7T black-face 7mm resolution – this was chosen for its good resolution, light weight and because it's very dark when off.
Darkness and mood are other key elements in a Massive Attack show. Subverting the more common oeuvre of revelation on stage, it's what stays lurking in the shadows which helps build the live show mystique.
Each screen measured 4.2 metres wide by 1.2 high offering 560 x 160 pixels. The system was designed to be configured as a standard 6-screen format on two levels, expandable up to nine screens on three levels if needed.
The concept also had motion involved, in that the screens were designed to independently rotate – louvre style – to produce different architecture and shapes behind the band as the performance unfolded. This rotation also had to be controlled via the media server.
XL came up with an axle based system driven by stepper motors offering 180 degrees of travel controlled via an interface by the d3 media server, allowing movement and content could be synched.
Each axle was attached to the screen support structures by two pins, and two different sets of support structures were toured for maximum flexibility depending on the venue or gig – one based on a scissor mechanism to take the three screens, and an aluminium option which utilised motors to lift the louvers.
Wilson-Wright ran the d3 server from FOH. They took in timecode there and sent the signal down a DVI fibre link to the screen processors onstage, and via a MOXA box, data was distributed to the screens.
The show's video content was newly commissioned by UVA, with Wilson-Wright looking after re-editing some of the 'heritage' items from the band's extensive digital archive and also creating some new material. All the time he worked in close collaboration with Lighting Designer Tim Oliver to optimise the different live show looks with lighting and the screen louvers as they moved into different positions.
UVA created a custom grid software module for the d3, onto which text and graphics can be placed and then scaled and sized accordingly maintaining complete pixel integrity without any aliasing or blurring. This is a central to the visuality of Massive Attack's show video, together with the ability for multi-lingual translations of text including Cyrillic and Chinese characters. With bi and tri-lingual shows the norm, current local and world events and issues can be fully integrated and communicated to the audience in the context of the performance.
www.xlvideo.com
(CD/MH)
Top Related Stories
Click here for the latest broadcast news stories.