Broadcast News
05/04/2018
NewTek TriCaster® Inspires Learning At UK University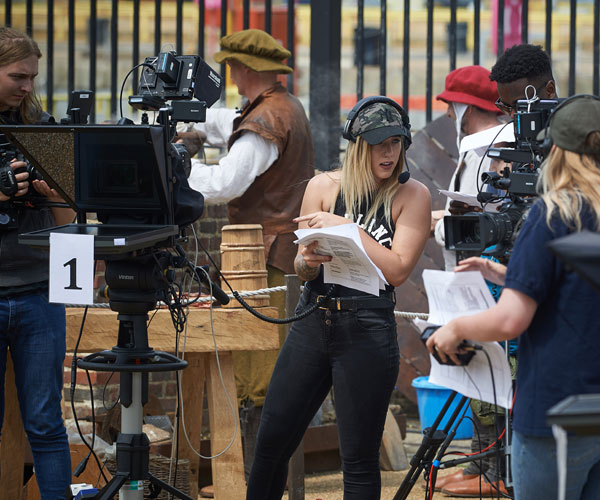 Newtek's Tricaster® has been used successfully by students at the University of Portsmouth to create projects, professional broadcasts, and award-winning live content.

The University of Portsmouth offers a wide range of courses that includes the popular BSc (Hons) Television and Broadcasting. The industry recognised Creative Skillset Accredited course allows students to experience what it is like to work within the fast-paced television and broadcast industry and sets them up to pursue a successful career. Classes take place in purpose-built TV and radio studios using industry standard hardware and software, and students use this equipment to produce weekly live professional TV programmes.

The course curriculum is heavily focused on practical industry skills, with approximately 75 per cent of the course being hands-on and allowing students to gain skills in professional video production, writing, television programme producing, presenting, and graphics. This all leads to the operation and management of a TV channel.

"When we first designed the Television and Broadcasting course, we knew there were a number of things we wanted to provide our students. One was a television channel that was curriculum driven, and the second was the ability to provide regular live TV that could be streamed far and wide," explained Charlie Watts, BSc (Hons) Television and Broadcasting course leader. "In 2007, we visited BVE and found NewTek. The NewTek TriCaster® was exactly what we were looking for and it has continued to inspire both staff and students to produce amazing work!"

With the NewTek TriCaster 860 and two TriCaster 460s, the university was able to provide its students with industry standard equipment to create professional broadcasts, that included an immersive 24-hour live production that raised over £1,500 for a number of charities, such as Mind.

This collection of TriCasters has also enabled Mr Watts and his team to progress projects were students will create live content from one of Britain's most haunted houses, Wymering Manor, broadcast a music show from South Parade Pier, and run an event celebrating 70 years of the NHS at a Queen Alexandra hospital.

Designed to equip teams with a live video system to handle anything from large format live shows to smaller multi-screen experiences, the TriCaster 860 has allowed students to easily create content with confidence, without too many over complicated functions.

The TriCaster 460 delivers an all-purpose media production system scaled for tight spaces and remote locations, making it perfect for students that want to quickly deploy to sites for last minute projects. It also offers multiple professional-grade capabilities in one turnkey solution designed to deliver maximum impact with a minimal footprint.

Each year, final year students are tasked with producing an outside broadcast that has the potential to reach a large audience and are encouraged to collaborate with significant institutions or organisations. In 2017, the students worked with The Mary Rose Trust, a purpose built award-winning museum with the warship's artefacts and crew, to produce three live broadcasts from the Portsmouth Historic Dockyard using the NewTek TriCaster. The students told the Mary Rose story from its sinking to its rediscovery and recovery, to the creation of the museum in 2013. Since then, the students have won a 2018 NewTek UK Education award for the live production 'The Mary Rose Live: Human Endeavours'.

Mr Watts added: "NewTek products are designed to do exactly what you hope from them, and the TriCaster's easy to use design has helped students and staff to recognise their creative capabilities. It is when technology starts to inspire great work, that you know something important has happened! NewTek has inspired our curriculum, our teaching, and student learning and many of our students have gone to work with companies like Sky and IMG."

BFV caught up with Charlie Watts and Gary Brown, two principal lecturers at the University of Portsmouth, at BVE and talked about its courses and its win at the 2018 NewTek Education Awards.

The full interview can be seen below:


Top Related Stories
Click here for the latest broadcast news stories.