Broadcast News
26/11/2012
Sue Perkins To Host WFTV Awards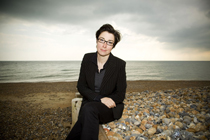 Almost 1,000 of film and television's most influential and successful luminaries will gather together on Friday 7th December to celebrate the year's most inspiring women in the industry at the 2012 Sky WFTV Awards.
Sue Perkins will oversee this year's ceremony, which boasts another roster of talented, inspiring, and successful women.
Sue is the TV personality of the moment; after picking up The BBC News and Factual Award at last year's Sky WFTV Awards, the comedian, presenter and actress has received further critical acclaim for her presenting prowess on BBC Two's hugely successful Great British Bake Off and has just finished penning and starring in her much anticipated sitcom Heading Out, to be shown on BBC2 next year.
Perkins said: "I am thrilled to be presenting this year's awards and as soon as I sober up from LAST year's awards I will be honoured to take to the podium and showcase the brightest and best female talent in the UK."
And Sue's not the only previous winner returning to the Awards. Former EON Productions Lifetime Achievement Award winner and 2010 host, Julie Walters, will be back at her favourite Awards do to present to this year's Lifetime Achievement Award recipient, veteran drama producer Ruth Caleb.
Ruth Caleb is being recognised for her outstanding and lasting contribution to the industry over a 40 year career which includes producer credits on Pat and Margaret (1994) which starred Walters and her comedy collaborator Victoria Wood, BAFTA nominated Last Resort (2000) starring Paddy Considine, and Bullet Boy (2004) starring Ashley Walters. Her executive producer credits include A Short Stay in Switzerland (2009), which Walters won a TV BAFTA for, and The Last Days of Lehman Brothers (2009).
WFTV Chief Executive, Kate Kinninmont said: "Our Awards are known for their mix of fun and humour alongside serious recognition of outstanding talent, and Sue and Ruth embody that. Sue's career has skyrocketed in 2012 and we're absolutely delighted to have her back. Ruth's prolific career speaks for itself, and she will be one of fifteen outstanding women from the film and TV industry who will take to the stage to receive their Awards on the day. We can't wait!"
This year there will be fourteen categories with awards being presented by stars of the film and television world.
THE DELUXE DIGITAL LONDON DIRECTOR AWARD
THE MAC BEST PERFORMANCE AWARD
THE TECHNICOLOR WRITING AWARD
THE ENVY PRODUCER AWARD
THE BARCLAYS BUSINESS AWARD
THE PANALUX CRAFT AWARD
THE CREATIVE SKILLSET INSPIRATIONAL WOMAN AWARD
THE INTERNATIONAL FILM GUARANTORS PROJECT MANAGEMENT AWARD
THE BBC NEWS AND FACTUAL AWARD
THE FREMANTLEMEDIA UK NEW TALENT AWARD
THE ITV STUDIOS ACHIEVEMENT OF THE YEAR AWARD
THE CHANNEL 4 FEMALE INDIE OF THE YEAR AWARD
THE BROADCAST & SCREEN CONTRIBUTION TO THE MEDIUM AWARD
THE EON PRODUTIONS LIFETIME ACHIEVEMENT AWARD
The 2011 Sky WFTV Awards ceremony was hosted by Miranda Hart and presenters included Jennifer Saunders, Edith Bowman, Dame Joan Bakewell, Kara Tointon and Kathy Burke.
Winners included: Victoria Wood, Mandie Fletcher, Emily Watson, Alex Crawford, Sue Perkins, Deborah Sathe and Jo Brand.
www.wftv.org.uk
Top Related Stories
Click here for the latest broadcast news stories.