Broadcast News
19/11/2012
Global Film School Launched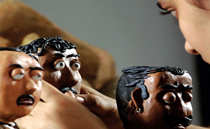 Leading Colleges from UNESCO's first City of Film and Bollywood have joined forces to create new learning opportunities for aspiring film makers by launching a global film school that aims to be the 'best film school in the world'.
In a project backed by the British Council, Bradford College and Whistling Woods International have formed a partnership to open a Film School which will be based in Bradford College's beautiful Old Building. From autumn 2013 students will be able to study a BA (Hons) Film and BA (Hons) Animation. They will enjoy the opportunity to study at the Whistling Woods campus in Mumbai and experience the Indian Film industry first hand. Whistling Woods International – Asia's premier Film, Television, Animation and Media Arts institute – is rated amongst the 10 best film-schools in the world by 'The Hollywood Reporter'.
Steve Abbot, award winning film and TV producer and Chair of Bradford City of Film, enthused: "I am enormously proud that the world's first City of Film is hosting this innovative new film school." David Wilson, Director of Bradford City of Film added: "Bradford has a fantastic film heritage and a fast growing young population. This is a great way to live up to our UNESCO title with a truly international partnership and help to develop the film makers of the future."
Award winning film director Daryl Goodrich, whose films have been credited with securing the London winning bid to host the 2012 Olympics, realised that he wanted to be a filmmaker while working on a course project when studying at Bradford College. He said: "The launch of a new film school in Bradford marks the start of something really special for both the College and the city. As a location, Bradford evokes creativity; it is culturally diverse and has an abundance of stunning areas in which to film. Over the years Bradford has produced some amazing creative talent, and now by hosting its own International film school, the level of creativity will continue to flourish. I wish them every success with this venture."
Trevor Griffiths, Associate Director Innovation & Projects, at Bradford College, said: "Setting up of this film school at Bradford College cements Bradford's standing as the number one destination for film. It's a fantastic offer that will put Bradford centre stage and we're thrilled to be working with some of the world's most renowned experts in film."
Subhash Ghai, Chairman of Whistling Woods International, said: "It is a great privilege for Whistling Woods to be associated with a college of this stature internationally. We have found a perfect partner in Bradford College." Meghna Ghai-Puri, President, Whistling Woods International, commented: "Our relationship with Bradford College has been one of trust and great success. We share the same vision of having a truly International Film School in the UK. It is exciting to be associated with a renowned Institution such as Bradford College and we are humbled by the support offered to us by the British Councils in India and the UK"
This move comes after a four-year affiliation between Bradford College and Whistling Woods International. In 2009, students from both institutions worked together to create an award winning stop-motion animation, The Music of Life. Since then they have continued work on partnerships in photography, prosthetics hair and make-up, animation and fashion design.
www.whistlingwoods.net
Top Related Stories
Click here for the latest broadcast news stories.