Broadcast News
30/08/2012
Mistika Scoops Outstanding Product Award At BIRTV 2012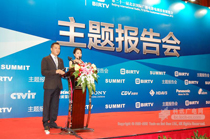 Mistika post production system and technology has received the BIRTV 2012 AWARD for the most Outstanding Product.
SGO presented its flagship product Mistika at China's major broadcasting industry trade show, BIRTV (Beijing International Radio, TV & Film Equipment Exhibition) again this year.
BIRTV provides an inspiring platform for creatives by showcasing cutting-edge technology in a rapidly growing marketplace, and is attended by over 55 000 people across the globe annually.
The Chinese market has shown a great interest and acceptance of SGO's Mistika innovative technology and solutions. Through CFEC and its SGO China broadcast partner Beijing Socam Ltd, Mistika is recognised as a vital system at numerous facilities all over China. Some of the many Chinese companies now adopting Mistika include the Xuke 3D team, Guangxi TV, The China Academy of Broadcasting and Planning, Royia Media Group, JiangSu TV, Xian Changqing TV, Goldrose Media and many others.
CEO of SGO, Miguel Angel Doncel states: "We are very honoured to receive this award in China, which clearly shows that our efforts have been acknowledged here in such a highly competitive arena. We are very proud of this achievement and would like to thank BIRTV once again for this accolade." Miguel added: "The SGO team will continue to focus intensely on our customer requirements in this region and abroad, and supply the technology that the industry demands."
SGO's Mistika was also used recently for all the stereoscopic 3D post production work for China's first 3D IMAX martial arts action film The Flying Swords of Dragon Gate. The film triumphed at the Asian Film Awards (AFA) by winning Best Visual Effects and was nominated for best film, director, actor, supporting actress and the best production designer. The film also received impressive accolades at the 31st Hong Kong Film Awards for best action choreography, art direction, editing, visual effects and sound effects categories for the 560 million Yuan ($89 million) gross blockbuster. Visually stunning, the film was recently released in China in Mandarin and is a Stereo 3D sequel of Dragon Gate Inn (1966). The film portrays a Ming Dynasty General fighting against a power-hungry eunuch with their final battle held at an inn run by Zhou Xun.
www.sgo.es
Top Related Stories
Click here for the latest broadcast news stories.