Broadcast News
28/01/2011
Composer Tunes Into Piers On CNN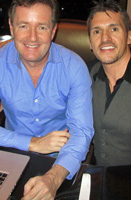 The US TV spectacular, Piers Morgan Tonight has aired for the first time, but CNN executives had real concerns over the theme music.
Filling the shoes of the illustrious Larry King after 25 years of hosting Larry King Live, the show's music quest was brought to the attention of British born composer Anthony James who sent a show reel to Executive Producer, Jonathan Wald, and the quest was over.
Anthony James and his writing partner Yiorgos Bellapaisiotis then began work. "Creatively everything came so naturally and pre-production was effortless. I wouldn't think twice doing it again," said Yiorgos, while Anthony James recalled: "It took two weeks to do and the deadline was getting closer so the pressure was on to write 'That Theme'.
"One morning after a full night of mixing and trying various things in our Upper East Side studio, I sent off the rough mix as an mp3 and went to bed at 8am.
"When I woke I had many emails to say 'We Love It' being both Jonathan and programme star, Piers, who were in LA at the time recording the Oprah Winfrey interview," he said.
Musically the object was to create a strong theme that wasn't too 'newsy sounding' and as directed 'not too hard and not too light', something a little unexpected for CNN.
Anthony (pictured here with Piers) continued: "In order to create the big sound CNN were looking for I knew I wanted live strings on the Sonic Identity and Main Theme track.
"I record a great group of musicians here in New York and they're not your normal session players, they're all virtuosi in their own right and a real joy to work with.
"I don't have a large live room but it can hold up to six players and that's always a challenge from the sound point of view, as there's not going to be a lot of air for the sound.
"The tonality of the room is actually great, I have the usual auralex foam with T-fusers dotted around for a more natural ping.
"However with six players tracking four or five times the same or divisi parts, I thought it would be cool if the players swapped chairs between each take to get a different sound on the spot and ambient mics.
"The depth was gorgeous and the mics picked up each players own way of doing things, but with this technique it was different on every overdub, giving it a larger sound," he explained.
"We brought in Brian Delaney (of New York Dolls fame) who's explosive drumming never fails to add another dimension to our tunes.
"Pete McCann added many tasty guitar parts to the tracks using various new technologies in the industry.
"Many of New York's finest musicians were called in at a moment's notice to add Trumpet, Trombone, Bass guitar, French horn. In total about 22 musicians were used on the various versions of the themes.
"The result is a powerful and memorable theme that will soon be instantly recognisable to viewers throughout the world.
"CNN predict that Piers Morgan Tonight will be at the centre of national and International conversation and they now have a theme that matches their Global vision," he concluded, noting, to listen to the theme visit:
www.ajmusicproductions.com
(BMcC/GK)
Top Related Stories
Click here for the latest broadcast news stories.