Broadcast News
07/12/2009
ITN 'Sources' New Top Names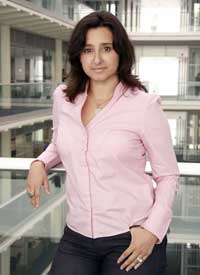 One of the world's leading news and multimedia content companies has now appointed their most senior staff to ITN Source and ITN Consulting and to New Ventures.
ITN is most noted for creating, aggregating, packaging and distributing news, entertainment and lifestyle content on multiple platforms around the globe.
The newly created role of Managing Director for ITN Source, has been awarded to Asha Oberoi, (pictured) who is currently Content Director of ITN Source. Asha Oberoi joined ITN Source in March 2007 and was responsible for building ITN Source's interests in new media as well as overseeing existing and exploring new content representation deals.
Since joining, she has successfully launched itnsource.com and has been instrumental in developing partnerships to create new digital businesses such as Education Clip Library, an online video portal offering content to educational publishers globally, as well as Diagonal View, a quirky clips channel which attracts over 30 million views a month.
The new business headed by Oberoi, will combine on-the-day footage (previously ITN International) with archive sales enabling ITN Source to reach a wider customer base all over the world through its network of offices, agents and its website, selling a comprehensive content package and building an unrivalled syndication business.
Adam Chadwick was appointed Managing Director for ITN consulting & new ventures. Adam is currently the boss of ITN Consulting but will now have an expanded brief.
As well as selling ITN 'know-how' worldwide, the business will also be given additional responsibility for exploring new ventures and new business opportunities on behalf of the company.
From 1999 Adam was Head of Studios & Editing for ITN, managing all aspects of the operation of news studios, edit suites and technology.
Adam established ITN Consulting in 2004 and has steadily and successfully built this business providing production and advice internationally offering end to end consultancy. The decision now to focus ITN Consulting building on the unit's advisory consulting services, with additional responsibility for identifying new ventures and developing new business opportunities, is testament to the work Adam and his team has done since 2004.
Both positions report to John Hardie, ITN's Chief Executive Officer.
Hardie commented: "Under the leadership of Asha and Adam these divisions will create a stronger, more commercially focused ITN, better able to serve the needs of our customers.
"This refocusing of our activities will enable the commercial units to perform better and compete more effectively."
For further information please visit:
www.itn.co.uk
(BMcN/BMcC)
Top Related Stories
Click here for the latest broadcast news stories.