Broadcast News
27/11/2009
Scrub Supplies New Icon Consoles To BBC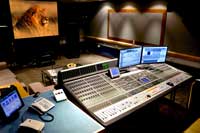 New 16 and 32 fader Icon D-Control consoles have been supplied to BBC Studios and Post Production as part of an upgrade to facilities at Television Centre by Scrub.
Although a wholly owned commercial subsidiary of the broadcaster, the company is required to tender competitively for BBC work alongside independent service providers. To meet customer demand, there has been a gradual standardisation of its audio post production equipment onto the Pro Tools platform.
Sound Team Leader Edume Bengoa explained: "Pro Tools is the industry standard, and it's essential that we can move projects easily between our own engineers and theatres, and work on sessions that may have been started externally.
"We have three dubbing theatre and two track laying rooms at Television Centre, two dubbing theatres at White City, and two dubbing theatres dedicated to Eastenders at Elstree. Almost all are now entirely Pro Tools-equipped."
Alongside the ubiquity of the platform, flexible editing and mixing functionality and the wide choice of processing plug-ins are key Pro Tools advantages, and also Digidesign's willingness to listen to its customers and remain focussed on the requirements of the post-production industry, furthermore a number of feature requests have been accommodated in new software versions.
Speaking on behalf of Scrub, the Soho-based division of HHB specialising in the supply of audio technology for post, Sales Manager Tina Wallace said: "Pro Tools and ICON will allow the seamless transfer of sessions in and out of the Television Centre post production operation, as well as between rooms.
"The BBC Studios and Post Production sound team offer full commercial services to their clients and Scrub is delighted to support them in this endeavour."
Further information is available at:
www.hhb.co.uk
.
(KMcA/BMcC)
Top Related Stories
Click here for the latest broadcast news stories.