Company:
Aerial Motion Pictures Ltd
Contact:
Callum Bannister Hire Manager
Address
Stables 3 Howbery Park,
Benson Lane,
Wallingford,
OX10 8BA

About Aerial Motion Pictures Ltd
Aerial Motion Pictures Ltd is a CAA approved National Qualified Entity (NQE) for instruction and completion of the Sub 20Kg, Small Unmanned Aircraft Systems (SUAS) Permission for Aerial Work (PfCO) syllabus.
AMP were the FIRST company in the world who were able to provide your aerial platform, training and full CAA commercial certification. Learn from professional, front-line military helicopter instructors and the best commercial UAV operators on our cost effective, CAA-approved courses!
AMP are in the unique position to be able to provide you with both your aerial platform and the highest levels of instruction. Our aim is to deliver the most cost-effective and efficient route to becoming a professional drone pilot and ultimately, ensure that operators who learn through us can provide the safest, most professional solution to their customers.
But what really sets our courses apart?
To us, delivering a PfCO is not just about getting you that necessary tick in the box, it is also about preparing you with the most relevant and up-to-minute training so you know exactly what to do to the moment you walk out of our door.
On top of that, we have NO renewals, we don't charge for re-sits and we don't charge to change your platform within the same weight category. We want our course to be worth every penny you spend on it – we're not out to fleece you! Add to that our top customer support and it's easy to see why ICARUS is fast becoming the new standard for professional drone training in the UK.
fICARUS Course Information
Our DSAT compliant, ICARUS Training Course has been designed from the ground up to provide you with the information and skills you need to become a competent and safe Commercial UAV Operator. Whatever your skill level, whatever discipline you plan to exploit, we will provide you with the best start within this exciting and expanding market.
Our instructors have been hand-picked from the best Central Flying School (CFS) qualified, military flying instructors who all have thousands of hours flying in various military aircraft and instructing others to do so too, through to the best Commercial UAV Operators in the industry today. So you can rest assured that the training you will receive really will be second to none!
As 'real' pilots ourselves, our ethos is one whereby we wish to improve flight safety through education. Our courses and recommendations to the CAA are run directly in-line with the current rules and regulations. What does this mean to you? We don't charge extortionate fees to examine your operations on every aircraft in your fleet, unlike some of our competitors, and we will examine you in each relevant weight class and flying category. If you pass, you will be able to operate any aircraft within that class.
Equipment Hire
Kit hire is now available at AMP! We stock a variety of equipment maintained by our team in house.
Drone Hire
Lens Hire
Camera Hire
Lens Control Hire
Playback Hire
Get in touch for more information, pricing and bookings.
Twitter Feed

Facebook Feed
Company News
05/06/2017
AERIAL MOTION PICTURES FLYING HIGH WITH AIR FORCE ELITE: RAF FALCONS
---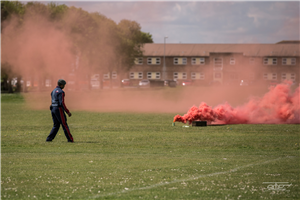 Aerial Motion Pictures (AMP) announces position as lead sponsor for the RAF Falcons 2017 display season.
Delivering aerial and ground based filming of the RAF Falcons team from April to September.
Producing a ground-breaking 360 degree, Virtual Reality (VR) documentary for the Ministry of Defence (MoD) to help promote the Parachute Display Team.
Aerial Motion Pictures (AMP), the leading experts in aerial operations and CAA drone training, is proud to announce that it is working with the Royal Air Force Falcons parachute display team as lead-sponsor for their 2017 display season to produce unique and exciting promotional content on their behalf.
The scope of the delivery will ultimately provide the RAF Falcons with cinema quality 'stings' for use on social media which they can use throughout the season to help with their Public Relations efforts but will culminate in the production of a 10 minute documentary highlighting what it is like to live a season as a member of the Team.
Not only will AMP be providing unique camera angles of the RAF Falcons' display season, they will be collaborating with their sister company Cineflow (who are co-sponsors of the RAF Falcons for the 2017 display season) to make the documentary a unique and immersive experience for the viewer.
The documentary will tell the story of the Team from a number of different positions within the Team itself, including the trials and tribulations felt by the families of those who put themselves in harms way, all in 360 degree 'Virtual Reality' (VR).
Matt Williams, founder of AMP and a former RAF helicopter instructor, said: "We're really excited to be working alongside the RAF Falcons throughout this upcoming display season. With our strong military roots, we hope that we can capture the ethos and the literal ups and downs which being a member of the UK Military's premier parachute display team brings on a day to day basis and deliver this to the viewer in a unique and immersive way which has never been seen before."
So far, AMP have filmed the RAF Falcons in a variety of situations and at a number of events, including the Team's 2017 launch day at their home base of RAF Brize Norton and during their historic first display into Buckingham Palace for 'Party at the Palace' to honour the children of those who have lost their lives serving in the Armed Forces.
ENDS
Notes to Editors
For further information on Aerial Motion Pictures, or to speak to Matt Williams, please contact: Ella Shepard, Aerial Motion Picture Ltd on 01491 526700 or email info@aerialmotionpictures.co.uk
About Aerial Motion Pictures (AMP)
Aerial Motion Pictures was founded by Matt Williams in 2014 and has gone on to become the standard setter for the unmanned aerial operations industry. Their industry renowned ICARUS course (the first independent course to receive CAA approval), has since gone on to train more than 1000 drone pilots, awarding them CAA Permission for Commercial Operations (PfCO) upon successful completion.
Matt, together with his ever-expanding team, applies his aviation know-how, passion for technology, and exacting safety standards to capturing and delivering gimbal stabilised footage from the air and ground using a variety of cutting-edge technologies.
With one of the widest ranges of aerial kit available, AMP has also established itself as the UK's premier providers of aerial footage for the film and TV industries.
Ends
Find Aerial Motion Pictures Ltd in
Location of Aerial Motion Pictures Ltd
Aerial - Cameramen Sponsors

Mini Eclipse
Eclipse XL & Multicam Array
Shotover F1
Shotover K1
Oculus
Alta 8 & Movi Pro Drone
Aerigon Drone
Tero Tracking Car
Other systems also available

We will recommend a helicopter type for a specific job based on the location and the type of shot. Then, We can find the appropriate helicopter from the nearest source. We are lucky to have wonderful working relationships with some of the best companies and pilots worldwide.

HoverCam are industry leading helicopter and remote control helicopter specialists with over 25 years experience in aerial filming, survey work and photography.
Helicopter Aerial Filming
Remote Controlled Helicam / Drone filming
Aerial Survey Work