Broadcast News
17/11/2017
AMP Release Docu About Royal Air Force Falcons Parachute Display Team 2017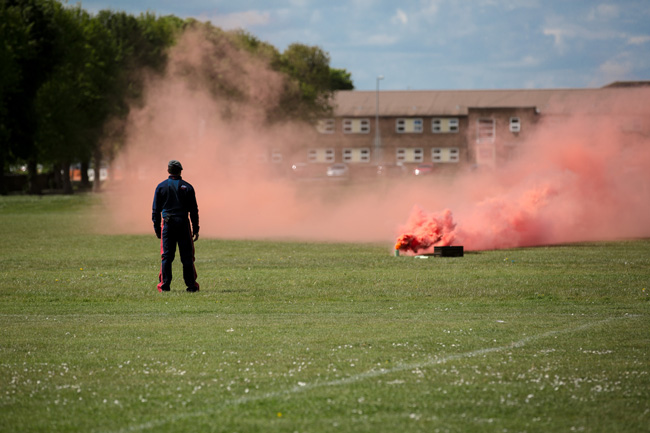 The Royal Air Force Falcons Parachute Display Team has been impressing crowds throughout the UK and around the world with their exceptional displays for over 50 years.
Following another successful season in 2016, which included displays in Belgium, the Czech Republic and across the UK, they wanted to take 2017 higher. Literally, in the sense of jumping from new heights through the physically challenging aspects of the job and also professionally, by using Aerial Motion Pictures (Sponsor 2017) to put together never-before-seen footage in to a unique 'insiders' perspective of the RAF Falcons.
The leading specialists in aerial cinematography, with a world-class reputation in image stabilisation, filming in all environments. From helicopters equipped with CineFlex systems to Shotover U1 super-heavy lift drones flying RED, ALEXA and 360 cinema cameras; AMP have the tools, knowledge and expertise to deliver productions, safely and cost effectively.
The company was founded by Matt Williams, a former military helicopter pilot and Instructor/Examiner with 1800+ hours TT in various types, both Single Pilot, Single Turbine and Multi-Crew, Multi Engine Turbine.
Aerial Motion Pictures (AMP), have been working with the Royal Air Force Falcons parachute display team as lead-sponsor for their 2017 display season to produce unique and exciting promotional content on their behalf.
After months of working closely with the Falcons, filming; practise days, family events and professional display jumps at Buckingham Palace, it has culminated in a short-film. The documentary tells the story of the team from different team member's point of view, including the trials and tribulations felt by the families of those who put themselves in harms way. This cinema quality documentary has been filmed in helicopters, down to the ground, aiming to really illustrate the length the Falcons go to, to train and live as part of this iconic team for a season.
RAF Falcons Documentary Launch from Aerial Motion Pictures on Vimeo.
www.aerialmotionpictures.co.uk
(JP)
Top Related Stories
Click here for the latest broadcast news stories.