Broadcast News
15/11/2000
SCOTTISH SCREEN TO DEMO VIRTUAL STUDIOS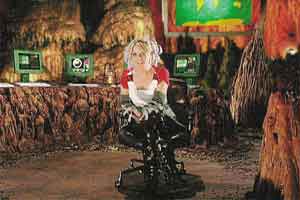 SCOTTISH Screen have announced a demonstration of Virtual Video Studios equipment will held at their Glasgow offices on Thursday November 16 at 6.30pm.
While Virtual Video Studios had intended to demonstrate one of the most powerful virtual set systems currently available, their Vi[z]RT Inca is booked for use on another project, so Virtual Video Studios will be displaying the power and flexibility of their mobile Evans and Sutherland MindSet Unit. No slouch, this virtual set system has been used on many top productions and has been used to create award-winning virtual sets.
Celia Stevenson of Scottish Screen said: "Scottish Screen encountered Virtual Video at this year's Production Show, where they transformed a video of ballet dancer Darcy Bussell performing alone on an empty stage. With their technology they could make her dance in an Arabian Palace, on a mountain top, in a street, anywhere in fact that the programme maker required. If you are making television or film and want to use some fabulous locations without the expense of actually going there, then this could be the answer."
Les Young, Pat Gavin and the Virtual Video Studio team have promoted the benefits of virtual studios for over two years. Clients include Sky, BBC and the South Bank Show.
Pictured is the BBC's 'Dinosaur Detectives' virtual set.
Top Related Stories
Click here for the latest broadcast news stories.