Broadcast News
03/02/2009
Orad And Full Mental Jacket Combine Powerful Virtual Studios With Captivating Designs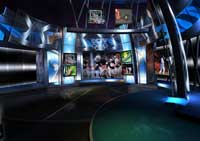 Orad Hi-Tec Systems Limited, a leading provider of real-time broadcasting graphic solutions, and Full Mental Jacket, a leading design company creating virtual sets and real-time graphics for news, entertainment, simulation and corporate training applications, has announced an integrated solution providing captivating virtual set designs based on Orad's powerful virtual studio platforms.
The integrated solution consists of a library of pre-designed sets to be used with Orad's virtual studio solutions, thereby providing broadcasters with state-of-the-art virtual studio sets available for immediate use.
Orad and Full Mental Jacket's integrated solution has already been used for headline events such as the 2008 Olympic Games in Beijing and by such leading broadcasters as Canada's Global Television.
Avi Sharir, CEO and President of Orad Hi-Tech Systems, said: "The integrated solution enables broadcasters to benefit both from Orad's expertise as leading broadcast graphic solution providers and Full Mental Jackets' expert design capabilities."
Ronen Lasry, Creative Director at Los Angeles-based Full Mental Jacket, said: "Having worked extensively with Orad in the past, we're delighted to continue and strengthen our partnership. We look forward to providing our award-winning creative services on Orad's state-of-the-art virtual studio platform to their varied customers."
Further information is available at:
www.fullmentaljacket.com
and
www.orad.tv
.
(KMcA/JM)
Top Related Stories
Click here for the latest broadcast news stories.