Broadcast News
20/11/2023
Series Mania Launches New Competition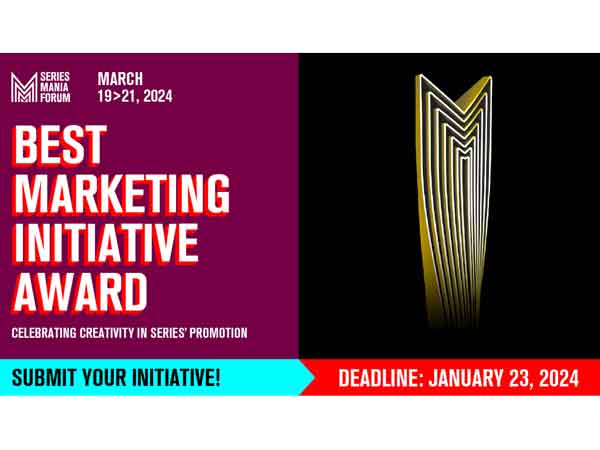 Given the tremendous response and success of last year's inaugural launch of 'Series Mania's Creative Campaign Award', Laurence Herszberg, founder and general director of Series Mania (March 15-22, 2024), has announced the creation of a newly named competition 'Best Marketing Initiative Award', a prize awarded by Series Mania to celebrate creativity in series' marketing, not only for the promotion to the viewing audience (BtoC), but also initiatives undertaken by producers and distributors to raise awareness toward commissioners and buyers (BtoB).
The Call for Submissions for this Best Marketing Initiative Award opens today, November 20th, and closes on January 23, 2024.
As with last year's award, this new initiative responds to the need for producers, distributors, broadcasters and platforms, faced with the dizzying number of series available, to create innovative and unique marketing campaigns so that the series are noticed and have every chance of gaining attention. The best ideas submitted, and the winner will be selected by a Series Mania committee and presented as part of the program during the 2024 Series Mania Forum (March 19-21, 2024).
"With a tremendous number of submissions entered last year, and with prices awarded to 'Doctor Who: Flux' from BBC Studios, and 'Lupin' from Netflix (Jury Special Mention), we knew we were on the right track with this award," commented Herszberg. "Creativity in series' marketing is more important than ever before given the sheer number of programs available today and we think it is a natural evolution to also open the stage to BtoB initiatives for 2024."
Best Marketing Initiative Award will be given to the most effective marketing initiative to promote a series, be it original, groundbreaking, or impactful for the audience. The committee will be looking for the best marketing promotion, which may include communication campaigns, experiences, digital/social initiatives, or a striking visual or promo/trailer developed for the launch of a new series or a new season.
The eligibility requirements for this award include: Creative / social / influencer agencies, producers / studios, international distributors and/or broadcasters / streamers who have set up BtoB or BtoC promotional initiatives for the launch of a series or a new season can apply for this award. For this new edition, campaigns launched in 2022, 2023 and 2024 are eligible. The application must be for a marketing initiative around a fiction series.
Additionally, it was announced today that registration is now opening for the 2024 Series Mania Forum, the industry arm of Series Mania.
seriesmania.com
Top Related Stories
Click here for the latest broadcast news stories.