Broadcast News
05/05/2022
TVUP Media Telecom Deploy AIP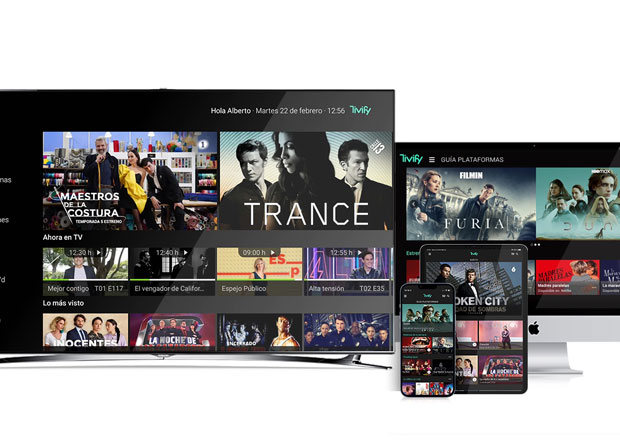 TVUP Media Telecom, a Spain-based technology company, has selected Ad Insertion Platform (AIP) to monetize its advertising inventory through AIP's programmatic premium video ad network. Thanks to AIP's capacity to generate demand via its buying partners and its leading SSAI platform, DAIConnectâ, AIP will help TVUP increase its ad yield and maximize its fill rates.
TVUP's innovative OTT television platform, Tivify, offers free access to more than 130 streaming channels, including some of the most popular channels in Spain as well as a selection of Free Ad-supported Streaming TV (FAST) channels. It allows distributors to offer a wide variety of premium TV channels and content to their customers, including advanced functionalities such as applications and games. The platform has an application for all screens: television (Android TV, Samsung, LG and Fire TV), mobile phones and tablets (iOS, Android and Huawei) and WebPlayer (Google Chrome). Users can also watch content on their TVs through Chromecast technology.
AIP provides a 360-degree monetization service within TVUP's interface by programmatically selling video ad inventory to AIP's demand partners and enabling Server-Side Ad Insertion (SSAI). The combination of AIP's ad serving capabilities and its SSAI technology's ability to insert dynamic ads into the video content for TVUP's FAST channels will help optimize the value of TVUP's inventory to maximize revenue, while ensuring the best user experience.
Eudald Domènech, CEO of TVUP, said: "We will be expanding our FAST channel strategy this year to bring more free entertainment options to our Tivify users. Thanks to AIP's programmatic ad sales services, we can increase our ad revenue and maximize fill rates. With AIP's DAIConnect, we have the most advanced SSAI solution on the market, allowing us to seamlessly stitch video ads within our complex digital infrastructure."
Laurent Potesta, CEO, Ad Insertion Platform, added: "We look forward to working with TVUP to implement a 360-degree solution for its OTT platform, ranging from the technical implementation to the monetization of its entire inventory. Large and ambitious players like TVUP are increasingly turning to AIP to help improve their advertising revenue."
www.tvup.media
adinsertplatform.com
Top Related Stories
Click here for the latest broadcast news stories.