Broadcast News
05/05/2022
Leader Instruments At MPTS 2022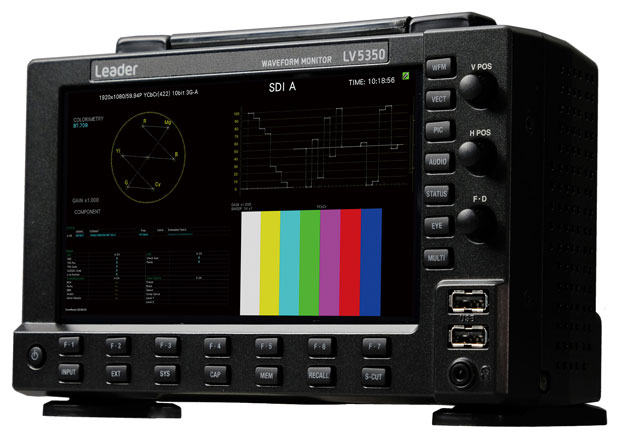 Broadcast test instruments from Leader Electronics will form the signal evaluation core of an end-to-end 4K HDR post-production workflow demonstration on the Big Pic Media stand (L326) throughout the May 11th-12th Media Production & Technology Show at Olympia London.
An industry-respected resource for production, post-production, broadcast and media products and services, Big Pic Media advises on and supplies solutions ranging in scale from individual items to fully integrated suites.
"Presentations of this kind are extremely useful as they give existing and potential customers the opportunity to experience the latest technology as part of fully operational system," Kevin Salvidge, Sales Engineering Manager at Leader Europe, said.
"4K HDR is capable of delivering hugely impressive quality if handled correctly from the point of capture and onward through the editing and shading stages. Adam Welsh and his BPM colleagues will be demonstrating a complete 4K HDR workflow from onset dailies through to quality control and mastering of the final deliverable.
"The demo system will include a Leader LV5350 waveform monitor and LV7600 rasterizer. The LV5350 is well established among DITS as the instrument of choice for on-set production as provides all the tools they need for high-grade signal measurement in a robust portable unit. The LV7600 rasterizer is similarly popular in post suites creating content for satellite and terrestrial broadcasters as well as the rapidly growing OTT sector.
"A key advantage of Leader test solutions is that operators can coordinate with the same suite of tools across the entire product range. This ensures that the DIT, the colorist and the post editor are looking at exactly the same images throughout the project, within a customisable unified GUI."
Leader's LV5350 is a mains or battery powered 3U high half-rack-width short-depth waveform monitor. It comes with a range of tools plus Leader's intuitive CINEZONE and CINELITE. All features are accessible from the front control panel, augmented by a 1920 x 1080 resolution 7 inch touchscreen TFT LCD monitor. A focus detection option allows the instrument to sense edges across a very wide range of image contrast levels. Additional options include 4K/UHD support, 12G-SDI interfaces, SDI-embedded audio analysis, SDI signal generation, CIE chroma chart, HDR measurement, customized display layout, tally display, extended chroma vector display and closed-caption display.
The Leader LV7300 rasterizer comes in a compact 1U half-rack footprint. It supports SDI signals from SD through 12G and includes physical layer testing. The instrument's waveform, vector, picture, audio, and eye pattern displays enable comprehensive measurement and quality control of a wide range of audio and video formats. The status display allows errors and system stability to be assessed with both event logs and long-term charts. SDI-embedded audio can be shown on the Lissajous, level and status displays. The LV7300 can be powered from AC or DC, enabling it to be used in locations where mains power is not available.
www.leader.co.jp/en
Top Related Stories
Click here for the latest broadcast news stories.