Broadcast News
07/01/2022
Audio Design Desk 1.9 Unveiled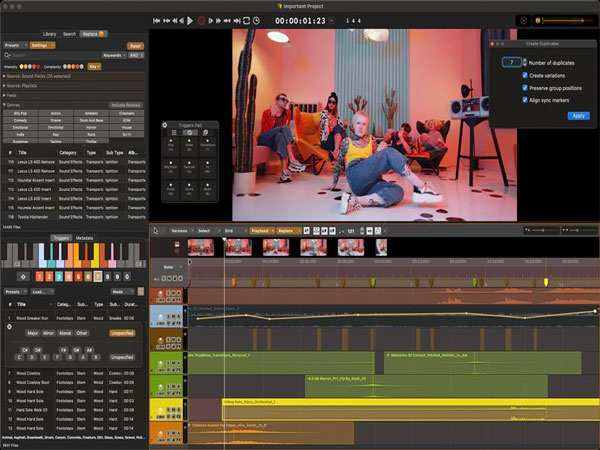 Audio Design Desk has announced the arrival of Audio Design Desk 1.9, a 2022 CES Innovation Awards honoree.
Debuting at CES this week in Las Vegas, ADD 1.9 is compatible with a full range of professional audio and video tools and introduces auto-compose, MIDI triggers, instant variations, and a dozen other exciting new features for audio and video professionals and creatives. Audio Design Desk is also launching a powerful integration with Stream Deck, which produces sound for video or live streams with simple keystrokes on the popular controller. Audio Design Desk is introducing the first ever lite version of its software as well as ADD Tags, a powerful metadata tagging application that uses ADD's award-winning AI to streamline the tagging process for audio artists.
"The past year has been a whirlwind of progress, improvements, and honors for Audio Design Desk. The latest release is going to be a really big deal for video makers and streamers especially, and there's so much more coming," states Gabriel Cowan, CEO of Audio Design Desk. "We've watched so many people have that 'Aha' moment when they see Audio Design Desk for the first time, and we expect many more at this year's CES! Audio Design Desk is an entirely new way to create with audio, combining a massive royalty-free sound and music library with a sampler and a digital audio workstation, becoming an all-in-one tool that lets creatives stay in the flow. With the release of 1.9, ADD works seamlessly with virtually every audio and video editing tool from Premiere to Final Cut Pro to Pro Tools to Logic."
In addition to being named a 2022 CES Innovation Awards honoree, Audio Design Desk recently won Fast Company's Next Big Things in Tech award and is nominated for the 2022 NAMM TEC award, one of the audio industry's most prestigious honors. The sound design software replaces the old, frustrating process of finding, placing, editing, and mixing sound into an experience of discovery. As Mike Levine of Mix Online says, "...if you're doing anything involving sound for picture, whether it's your own YouTube videos or professional post-production, once you start using ADD, you'll wonder how you ever lived without it."
add.app
Top Related Stories
Click here for the latest broadcast news stories.