Broadcast News
08/12/2021
EMS Broadcast Celebrates Past, Present And Future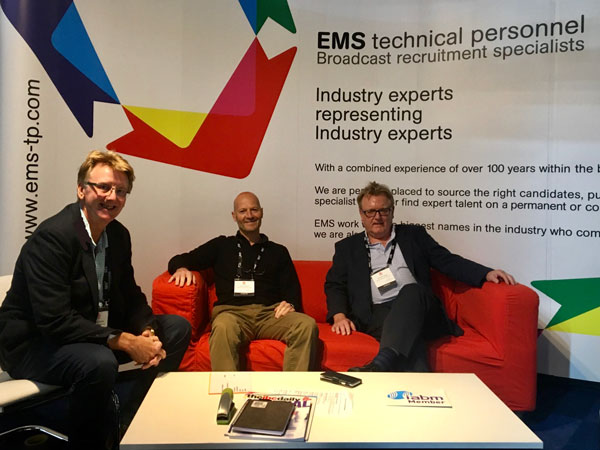 EMS Broadcast is celebrating its past, present and future as it ends the year in a strong position, and looks forward to what's ahead.
Industry expert, Dermot Casey, formed EMS back in 1993 as a Broadcast Systems Integration company along with three other ITN Broadcast Project Engineers. However, it wasn't long before clients started asking whether team members could stay on after integration work had been completed. So, in 1998, EMS began also providing recruitment services and in 2008, this became its entire focus.
Since then, the company has gone from strength to strength; establishing a reputation for providing quality technical broadcast staff, such as Project Managers, Project Engineers, Support Engineers and Installation Staff, to all the main media outlets. It also broadened its remit at the start of 2019 when it took on Adrian Thomas, former Director of Broadcast Schedules Operations at Discovery and previously Broadcast Presentation Manager at ITV.
The company successfully forged a parallel path in line with Adrian's areas of expertise, which included sourcing and supplying more Operational, Post-Production and Creative talent with roles spanning from Digital Video Editors, Transmission Controllers and VOD Specialists, to Producers, Schedulers and Anchor News Presenters.
When speaking about this new strategic direction, Adrian said: "It was great to bring a new focus to EMS and reap the rewards with a more diverse portfolio of clients and candidates than ever before. The recruitment business is changing with new demands and more hybrid roles and this opening up of new markets comes with challenges, but the signs are positive and the broader approach allows us to talk to and support clients across a huge range of skills and positions."
EMS Broadcast has continued to bolster its team in the years since, with a number of new, younger hires - including Liam, Laura and Cathy - who each bring a different skill set to the table.
Commenting on this, Dermot said: "Anticipating the bounce-back of the global broadcast industry following the Coronavirus pandemic, we made it our mission to grow and recruit more young, ambitious professionals. Liam, Laura and Cathy are real assets to the company, and their joining is just one symbol of how strong we now are.
"We were really looking forward to attending IBC 2021 this year, to celebrate this and mark what would have been our 25th year exhibiting. However, with the event cancelled, we will instead be joining digitally and postponing our 25th anniversary until next year."
As well as welcoming a number of new, dynamic professionals on board, EMS Broadcast has recently made a large investment in its offering through planning to launch a fresh new website and brand identity at the start of 2022, plus the roll-out of an exciting campaign to promote the new areas it has moved into.
"We're feeling exceptionally proud of the team we now have in place, excited for next year's expansion plans and basically, raring to go."
www.emsbroadcast.com
Top Related Stories
Click here for the latest broadcast news stories.