Broadcast News
19/11/2021
Matrox Releases Monarch EDGE Command Center Web User Interface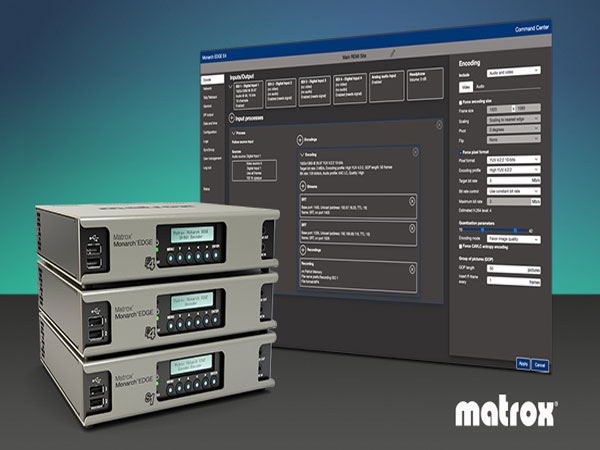 Matrox® Video has released its Monarch EDGE Command Center web user interface (UI) to simplify and enhance the management of Monarch EDGE 4K/multi-HD encoders and decoders within remote production (REMI) environments.
Accessible via a standard web-browsing application, this intuitive configuration management tool allows broadcasters and live event producers to directly access, control, and operate all Monarch EDGE appliances from any location and device. Secure, quick connection to Monarch EDGE appliances facilitates efficient setup and maintenance operations to swiftly meet the growing demand for live, multi-camera sports, concerts, and news productions.
Matrox Monarch EDGE encoder and decoder appliances help organizations produce more broadcast-quality content with fewer resources by transporting multiple synchronized camera feeds over dedicated WAN, LAN, or internet, and back to the studio—with glass-to-glass latency as low as 100 ms—for SDI-based productions. Monarch EDGE Command Center further streamlines the REMI deployment process by allowing broadcast operators to configure and customize streaming, recording, and decoding settings and operating modes from any device on the network that supports a web browser. In conjunction with the Monarch EDGE Control Hub high-level overview dashboard application, authorized users have complete end-to-end management and control of Monarch EDGE appliances within the REMI ecosystem.
www.matrox.com
Top Related Stories
Click here for the latest broadcast news stories.