Broadcast News
03/09/2021
KIFF Announces New Headline Partner Sponsorship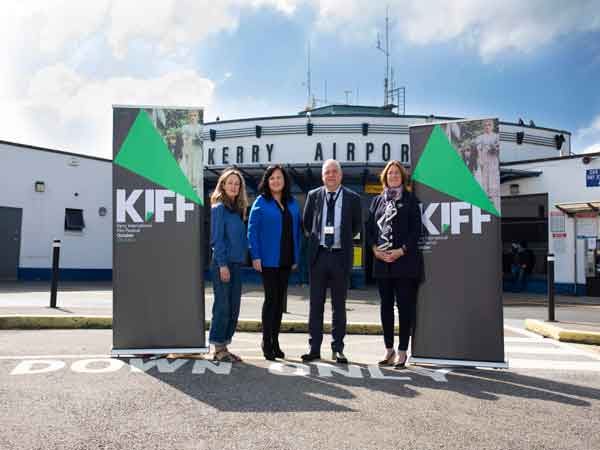 Kerry International Film Festival (KIFF) has announced its new headline sponsor partnership with Kerry Airport.
Running for its 22nd year, the festival will take place October 14 – 17 2021 and the new partnership has provided a significant boost for the festival. A common goal of both Kerry Airport and KIFF is the promotion of Kerry on a global scale, and this has played a significant role in the development of this collaboration.
Speaking at the launch of the partnership, CEO of Kerry Airport, John Mulhern said: "The Kerry International Film Festival is a highlight of any calendar. The benevolent and lasting relationship between the arts and County Kerry is one which is acclaimed all over the globe. In particular, the film industry. Remember when Jimmy Stewarts' Charles Lindbergh finally spots land, Skellig Michael and the Iveragh Peninsula, a historic event in aviation and experienced by us all through the wonders of Film. Thus, how could Kerry Airport resist the opportunity to partner with KIFF and with them celebrate both renowned and emerging talent in their craft. We look forward to October with much anticipation."
To celebrate Kerry Airports invaluable support, KIFF have introduced The Kerry Airport Take Flight Award. This award will recognise up and coming new talent in the film industry and is a welcome addition to the festival's coveted awards, which also includes The Maureen O' Hara Award, The Best of Kerry award, The Best Irish Narrative Feature award, amongst others.
Speaking about the partnership, Board Chairperson, Grace O'Donnell, said: "The team at KIFF are very excited about the collaboration with Kerry Airport. We see this as a natural progressive partnership. For most of our visitors to the festival, stepping off the plane at Kerry Airport is their first taste of Kerry. Kerry Airport is the gateway to Kerry and we feel KIFF is the gateway to film in the County. We look forward to working with CEO of Kerry Airport John Mulhern along with his team at the airport to make KIFF one of the most important film festivals in the World and to continuously support Kerry as a destination."
Script writer and Kerry native, Ailbhe Keogan is also a board member of KIFF. Her latest script Joyride, featuring Oscar winning actress Olivia Coleman was recently filmed in Kerry this summer with some scenes being filmed in Kerry Airport. Speaking about the importance of Kerry Airport from a film maker's perspective, Ailbhe said: "Personally, as a film-maker, I've been grateful to Kerry Airport for many years now. I've travelled abroad to make important connections and brought these collaborators home to Kerry. Partnering with Kerry Airport enables KIFF to do likewise; to make meaningful connections with an international film community so that we can offer the richest festival we can."
www.kerryfilmfestival.com
Top Related Stories
Click here for the latest broadcast news stories.