Broadcast News
29/07/2021
MAX Live Media Access Services Invests In SubtitleNEXT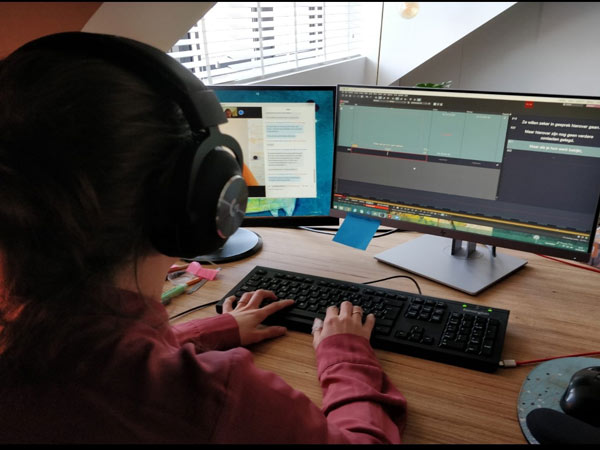 Belgium-based live-subtitling experts MAX Live Media Access Services have invested in SubtitleNEXT to provide real-time subtitling workflows.
SubtitleNEXT has already been put to work to support MAX Live Media's broadcast clients with advanced subtitling services to help meet stringent media accessibility goals, as well as provide interlingual real-time subtitling, timed-text streaming for international events and more.
SubtitleNEXT is a convenient all-in-one solution that can be used for captioning live events and offline content in real time. It can stream content in multiple formats that are suitable for linear broadcasting, including VOD platforms and social media platforms.
There is a growing understanding of accessibility, and the definition is broad - from motor disabilities, sensory, to cognitive, the key element is to ensure that content is made accessible to everybody and that no one is excluded. New regulations requiring audio-visual content to be made accessible to everyone, including hearing-impaired people, have resulted in a seismic shift in the broadcast industry's attitude towards subtitles.
Broadcasters all around the world are now subjected to these new rules to ensure scheduled programmes have sufficient subtitling to meet guidelines, thus increasing demand for subtitling and captioning solutions. Accessibility has been made affordable with reliable software systems on the market like SubtitleNEXT, therefore subtitling should no longer be regarded as a regulatory burden for broadcasters.
Subtitling is finally being recognised as essential, and no longer an optional add-on, as previously perceived. This positive move has revealed how valuable subtitles are to programme makers and filmmakers, as they not only promote growth, but increase profits by reaching out to vast global audiences in different languages.
Co-founder of MAX Live Media Access Services Veronique Denis stated: "I have been creating accessible audiovisual content for the hearing and visually impaired since 2015, and over the past few years, people have started consuming audiovisual content anywhere and anytime. This is challenging for broadcasters who want to meet accessibility standards for content that needs subtitling across various platforms. SubtitleNEXT enables us to meet these broadcasters' demands and high standards by being our one-stop-shop for all of our subtitling needs: - whether they are live, semi-live or pre-recorded, the results are always of high quality. With SubtitleNEXT, we can provide all of these services and more. We are able to meet our clients' demands for accessibility of all of their content on any platform and we can open up content for other speaking audiences too.
"We also use SubtitleNEXT to accommodate our clients' need for accessibility for the deaf and hard of hearing with intralingual real-time subtitling of live streams, webinars and other broadcasts and to also provide real-time subtitles for conferences and corporate meetings. Increasingly more companies realise that accessibility is not simply making sure that work space is accessible for people with physical disabilities, but it is also about making sure that those with sensory and 'invisible' disabilities are able to participate at work just like any other employee. This fits perfectly with one of our company's long-term goals: making for a more inclusive society in which accessibility is a given and not something one should ask for. It should be there from the get-go. We try to raise awareness by providing potential clients with statistics, for example that one out of ten Belgians are hearing-impaired. If a company has 50 employees, then 5 could benefit from having real-time subtitling."
MAX Live Media relies on SubtitleNEXT for other projects such as interlingual subtitling for multilingual events, whether offline or via livestream.
"As Belgium is a multi-lingual country, it is important for events to be accessible to a diverse audience. Without subtitling, organisers used to resort to interpreters, but then had to have a wide array of audiovisual means to get the message to those who need it. With real-time subtitling we provide textual assistance for those who need it and if the event is streamed online as well, the viewers at home can watch the content with subtitles too. Moreover, the subtitles generated with SubtitleNEXT are timed like regular subtitles, which is something that other text streaming applications lack. Therefore, thanks to SubtitleNEXT, we can provide the client with a subtitle file after the event so that they can use it for the publication of their content."
A smaller portion of MAX Live Media's activities includes writing audio description for the blind and visually impaired, using SubtitleNEXT to identify where they can describe what's shown on screen and then use the reading speed calculations for the text to gauge if the voice-over is timed well.
www.SubtitleNEXT.com
Top Related Stories
Click here for the latest broadcast news stories.