Broadcast News
28/07/2021
Lightware Plays Critical Role In Epic Games Innovation Lab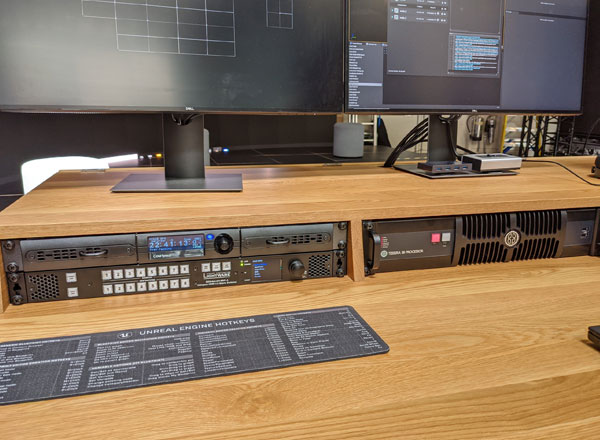 Epic Games' London Innovation Lab has continued to work toward specifying a standard design for extended reality (Xr) production work with help from Lightware Visual Engineering UK & Ireland.
The gaming giant is doing this work using its Unreal Engine real-time 3D software.
Lightware's MX2-16x16-DH-8DPi-A-R full 4K Matrix Switcher with mixed DisplayPort and HDMI input ports sits in a critical role between the media servers that render the content in real-time and the Brompton Technology LED processors, such as the Tessera SX40 and S8, which are considered the gold standard in such installations and drive the screens of the Xr stages.
Xr production is transforming high-end TV and film production, especially for effects-heavy shows. Epic Games' Unreal Engine leverages advances in GPU power to support real-time raytracing, providing photorealistic images of virtual environments. These are then displayed on giant LED screens surrounding the Xr stage rather than the blank green screens or blue screens that have previously been used. This technique gives actors precise environments and CG characters to act and react with and ensures correct lighting for VFX shot composition, as well as reducing location filming costs, increasing Covid compliance, and a host of other benefits.
The Lightware matrix confers several advantages to the set up including a professional and reliable conversion of DisplayPort to HDMI; support for HDR standards; and support for the wide range of large format resolutions and very high refresh rates that are critical in pushing the boundaries of Xr production. As well as maintaining signal timings and synchronisation across the signal path, it also provides crucial diagnostic information and measurements of signal parameters, allowing it to eliminate the time-consuming confusion that can come from trying to verify exactly what signal is coming from the source device. Finally, it ensures large scale distribution of the sort of high-bandwidth challenging signals involved in Xr production with no compromise in signal quality.
"We've worked closely with Lightware for many years to ensure that our mutual users have a smooth interaction with both of our products, this relationship has continued into the world of Virtual Production," said Adam Callaway, Technical Solutions Manager, Brompton Technology. "The MX series from Lightware provides a reliable and elegant solution from managing the Displayport to HDMI conversion from the GPU's directly into our processors."
"We are delighted to help Epic move the goalposts of Xr production based on Unreal Engine even further on than they are already," added Felix Knight, Lightware's Managing Director. "We have good ties with Brompton Technology and our matrices have a great track record of helping solve some of the common challenges that occur when dealing with the sort of high-resolution, high-framerate images that working on LED stages necessitates."
lightware.com
Top Related Stories
Click here for the latest broadcast news stories.