Broadcast News
20/07/2021
Dorian Gray Studios In Eichenau Relocates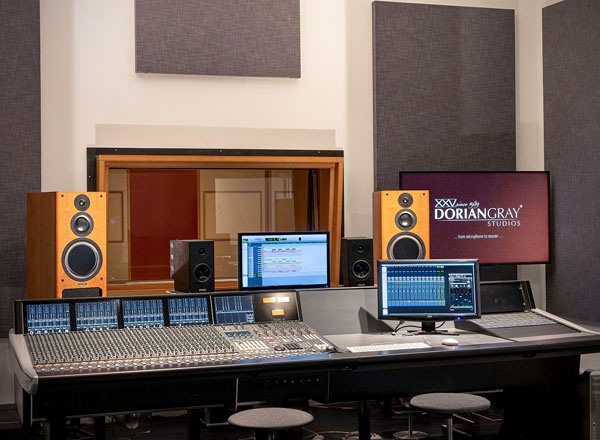 Music Support Group (MSG) has relocated the original Dorian Gray Studios in Eichenau as part of a larger plan to consolidate all its Munch operations into one location.
Dorian Gray Studios across Germany are equipped with PMC products ranging from the largest MB2 XBD systems down to the smaller DB1 and TLE monitors, and the new location is no exception.
The new facility in the city centre has seen three main control rooms, a mastering suite that doubles as a fourth control room and various recording areas built, all under the watchful eye of Gerhard Woelfle, Head of Dorian Gray Studios and Senior Audio Engineer.
"We dismantled our main control room in Eichenau and rebuilt it in the new location," he explained. "This is now Studio 1 and it has a 96-channel SSL C200 Digital Production Console, a 5.1 monitoring system featuring PMC MB2 XBD fully active monitors with Bryston amplification, ProTools HD3 and lots of outboard gear, microphones and tape machines."
Studio2 - the first Dorian Gray studio to open in Eichenauin 1989 – was also dismantled and moved. In its new location it is mainly used by students from the Deutsche POP academy (MSG's training arm), but can also be rented for commercial projects. This room has a 24 channel SSL Duality, PMC IB1 monitors and ProTools.
The final control room – Studio 3 – is used by junior students and can also be used as a recording space. There are two other recording rooms – a large space that is directly connected to Studios 1 and 2 and a second, smaller space with visual access to Studio 2 and audio and video links to Studio 1.
"Our separate mastering suite is connected to the largest recording room,that can be used as a spare control room for smaller recording sessions," Gerhard added. "This is equipped with PMC IB2 monitors, SADiE and ProToolsDAWs, a customised Crookwood console and high end analogue and digital mastering outboard."
Gerhard, who joined MSG in 2003, recommended PMC monitoring after been impressed by their clarity while working as a freelance engineer at various PMC equipped studios in Germany and Austria.
"I used them several times at MSM in Munich where some of my productions were mastered, and as a customerI was always very pleased by the fact that I was not confused by any unknown sounds coming out of the speakers," he said. "All I heard was my original mix. The fact that the speakers were so accurate made the mastering process a lot more fun to listen to. Precision, transparency, perfect imaging, flat frequency response and minimal distortion, plus the fact that I could listen to them for hours without getting fatigued, were PMC's key attributes. When you are listening to the same music for many hours, your ears do get tired and that's when you can get poor results. Knowing that what you hear in the studio will translate well on any consumer system allows you to feel safe and work faster. This is what I get from PMC, plus immediate feedback on what I'm doing to the signal in terms of EQ, compression, etc."
Dorian Gray's new Munich facility is now up and running and is already being used by students and for a variety of commercial projects.
www.pmc-speakers.com
Top Related Stories
Click here for the latest broadcast news stories.