Broadcast News
05/11/2020
Major Shows And Events Powered By Merging's Flagship Product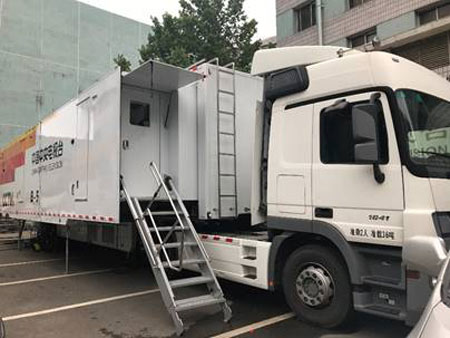 Gaining the confidence of a major broadcaster is always rewarding for a manufacturer and this is increasingly true when they are a national television station.
They don't come larger than China Central Television (CCTV) so to see Merging Technologies' products in use in critical parts of the infrastructure, is a great honour. CCTV is obviously a major source of news, cultural and ideological information as well as entertainment, social and information services. Merging's Ovation systems with MassCore are located in several important locations within the CCTV infrastructure.
Firstly, there is an 800 m² television studio where the Ovation system is linked to Lawo MC² console using RAVENNA AoIP technology. This is providing multichannel playback during live programs and given the size of the audience, there is the insurance of a second Ovation MassCore system mirroring the master machine.
Another location where Ovation can be found is in the studios located in E-Zone of the "new" CCTV building. This building is no longer that new but it is no less impressive for that. It was selected as one of the top ten architectural miracles worldwide by Time Magazine in December 2007. It is still winning awards with the more recent prizes for Best High-Rise Building in 2013 by the Society of High-rise Urban Architecture (CTBUH) and one of the top 10 contemporary buildings in April 2014. The E-Zone studio group is mainly used for recording music programs and here Ovation is connected with a Hapi networked audio interface to perform multitrack reverberation and other live effects. Studio E02 is being set up for live broadcast and they are planning to use the Show Control capabilities of Ovation to combine the control of audio, video and lighting. This involves connecting the video switcher and the lighting console which is already controlling audio.
The advantages of IP in an OB Van have been fully realized in what was the first 4K all-IP truck in China. Here the RAVENNA/AES67 network features Merging's Pyramix connected to the Lawo MC² console for capturing high quality multitrack recordings of various TV programs.
Pyramix and Ovation are not just to be found in China's premier broadcast locations, Ovation has also taken its place in many prestigious live venues, museums and art galleries, theme parks and even a wedding hall. Its ability to control the whole show as well as providing an immersive sound experience has been key to this success.
www.merging.com
Top Related Stories
Click here for the latest broadcast news stories.