Broadcast News
26/04/2016
Green Screen Soho – Affordable, Reliable, Centrally Located Studio In The Heart Of The West End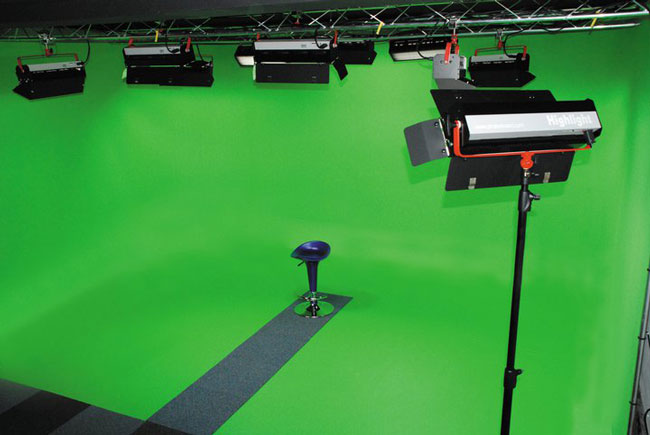 Green Screen Soho's purpose-built, bespoke, green screen studio is unique to Central London, offering facilities to shoot everything from single presenter multi-camera interviews, to full music/ theatre/ TV promo videos.
It's U-shaped Cyclorama provides a Chroma key Green Screen on the 5m wide back wall, on the two side walls (7.5m depths) and on the floor, allowing greater flexibility for filming 2 or 3 camera shoots at different angles. The studio comes pre-lit with a low-heat Photon Beard lighting grid.
With its huge 1,100 sq.ft client holding area, complete with Wi-Fi, Sky TV, arcade games, table football & pinball, the Green Screen Soho provides a relaxed holding space for 30 plus people; including separate make-up and dressing room facilities. Its U-Shaped floor-to-ceiling infinity Cyc measures 7m x 5m x 7m and is pre-lit with low-heat Photon Beard lighting. The studio can also provide a white or black backdrop depending on the client's requirement.
The studio can cater for all professional photographic shoots – commercial, portrait, pack-shots, fashion, glamour, headshots, advertising and editorial. Located in the centre of Soho, they are surrounded by excellent transport links, restaurants and bars, and provide the perfect location to bring clients and sample the experience of shooting in a relaxed, friendly and professional environment.
Green Screen Soho can supply some of London's best creative talent including directors, stylists, hair and make-up artists, and their technical team offer assistance as and when required. Their in-house creative department can provide re-touching, re-production and design services, and if needed, can also take your shots into their post-production facilities, animate them for TV commercials and/or for direct web usage.
With their high speed 100mb per second dedicated broadband network (upload and download speed), they can quickly upload shots to clients – at no extra cost.
Green Screen Soho offer discounts for multiple bookings and are currently offering discounted rates for weekend bookings.
For more information or availability please contact Joanna on 0203 740 6810, alternatively please e-mail
bookings@greenscreensoho.com
.
www.GreenScreenSoho.com
(JP)
More Studios Stories