Broadcast News
13/03/2020
London's Royal Opera House Expands Reach With Ross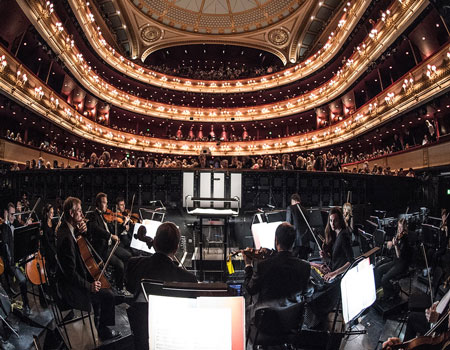 For lovers of live music, theatre and opera, London is one of the world's most exciting cultural cities, and the Royal Opera House (ROH), situated in London's bustling Covent Garden, has been an important venue for performing arts since it was first built in 1732.
With a capacity of 2,256, the venue – which started life as the 'Theatre Royal' playhouse – has hosted iconic works, and many operas and oritorios by the famed composer Handel were written specifically for the Opera House and premiered there.
The venue is now the home of The Royal Opera, The Royal Ballet and the Orchestra of the Royal Opera House and the building was extensively modernised in 2000. During this process, the ROH was tasked with changing its relationship with London's citizens to broaden public access to the building an open its performances to wider audiences. In order to facilitate this, a new media suite was created in 2005 in the building's basement, enabling broadcasters (most notably the BBC) to record a number of operas for TV distribution. In 2008, New York's Met Opera began streaming live performances to cinema audiences around the USA; other international live venues followed suit, and the ROH today broadcasts a dozen operas and ballets per annum to over one thousand cinemas across Europe. In 2018, the ROH decided that a further upgrade of its facilities (to take advantage of UHD/HDR) was needed and issued a tender, subsequently won by Ross Video partners Megahertz.
"We were very conscious of cost and efficiency," noted Peter Byram, the Project Manager for the ROH's refurbishment. "We had previous experience of working with other manufacturers, but this project demanded solutions with a comprehensive feature set and a sensible price. "While the ROH may be fortunate enough to have benefactors, the bulk of the income still comes from the box office and so value was an important consideration. "Working with Megahertz, we chose the Carbonite Ultra production switcher and the Ultrix-FR5 routing/AV processing platform. The Carbonite Ultra had just been launched and made a great deal of sense given the functionality and the very keen pricing. The Ultrix-FR5 was also brand new at the time and we were especially impressed by the audio processing capability – that's been an important feature for us, and we appreciate it being a standard part of the Ultrix offering." Control of the whole system is handled by a combination of Ross Video's DashBoard control system and the TallyMan system from TSL Products.
www.rossvideo.com
Top Related Stories
Click here for the latest broadcast news stories.