Broadcast News
14/11/2019
Custom Consoles Module-R Desks Selected For Royal Opera House Production Gallery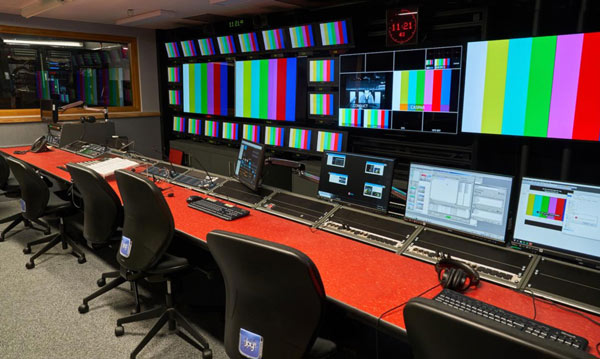 Working in partnership with UK based broadcast system integrator Megahertz Ltd, Custom Consoles has completed a new production gallery desk, engineering control desk and a MediaWall monitor display for the Royal Opera House in London's Covent Garden.
The project forms part of an extensive UHD/HDR upgrade to the facilities used by the ROH to relay performances of over 12 events each season for live viewing by cinema audiences in Europe and for distribution to other venues around the world. The ROH also live streams frequently from the main house, Linbury theatre and other studios in the building.
"We have deployed Module-R and MediaWall very successfully for various projects over the years," said Megahertz Ltd Operations Manager Nigel Smith. "Module-R desks are strongly built, attractively styled and comfortable for operators to work with. They also provide the design versatility we need to meet each customer's requirements in terms of features and dimensions. MediaWall delivers the same design freedom along with the ability to change the monitor configuration at any point during the system's lifetime."
The production control desk is 6.7 metres wide and equipped for use by a team of up to eight operators. It includes a removable section at the right hand end for access to the MediaWall. A Ross Carbonite vision switcher panel is inset into the work surface alongside a freestanding music score support. At the far left is an engineering manager position with a 5U high equipment pod and two 4U pods plus additional worktop space. Five computer monitor displays are mounted on adjustable monitor arms anchored to the rear of the desk, one at far left and four to the right for graphics and subtitle operators.
Located in a separate suite, the engineering control desk is 3.6 metres wide and equipped for simultaneous use by up to four engineers. Camera control units are embedded in the central worktop area. Seven 4U-high equipment pods with sloping front panels occupy the rear of the worktop. Twelve monitor display screens are mounted along and above the equipment pods.
Both desks are finished in grey with red Marmoleum worktop surfaces. Forward-facing removable doors provide easy access to installed equipment.
Positioned directly in front of the production control desk and occupying its full width, the MediaWall supports a total of 20 Sony 17-inch monitors and their respective discrete under-monitor-displays plus, along the top, loudspeakers and a studio clocks. Four 55 inch screens positioned at mid-centre height dominate the mediawall, providing a cinema feel to the transmission and preview monitors. Seven equipment storage bays are incorporated below the monitors.
A mix-and-matchable control room furniture range, Custom Consoles' Module-R enables aesthetically attractive long-life desks to be configured in a variety of shapes and dimensions from a selection of high-quality pods, base sections, 19 inch rack housings, worktops, end-panel modules and legs. Coordinated desk pods are available as single-bay sections with up 10 rack unit chassis capacity. Module-R has been tested by FIRA to ensure compliance with current ISO standards. It is supplied with full cable management and internal 19 inch racking, accessible via removable front and rear cover panels. All rear surfaces and pods are completely interchangeable. A full length cable brush enables easy reconfiguration.
Custom Consoles' MediaWall allows flat-screen monitor displays of practically any width to be constructed from standard horizontal and vertical support elements. MediaWall can be used as a fully self-supporting structure or coupled directly to the studio wall. Individual screens can be positioned so that the edges meet exactly to form a continuous horizontal display limited only by the boundary of the monitor panel itself. All wiring is fully concealed and can enter or leave the structure at any desired point. MediaWall is available in any specified element widths.
www.customconsoles.co.uk
Top Related Stories
Click here for the latest broadcast news stories.