Broadcast News
05/02/2020
Leader Europe Provides Waveform Monitors To The ROH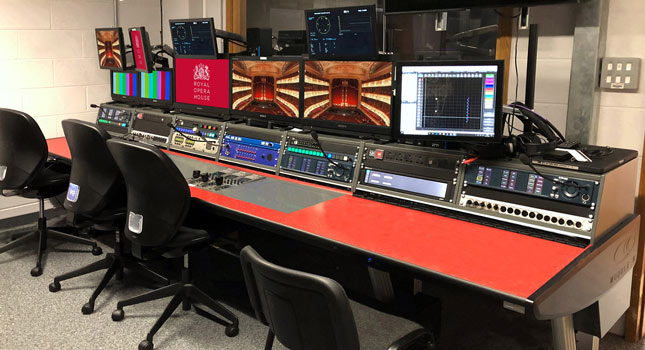 Leader Europe has provided two LV7300 rasterizing waveform monitors to the Royal Opera House (ROH) in London's Covent Garden.
They were chosen as part of an extensive UHD/HDR upgrade carried out to the facilities used to relay stage performances for live viewing by cinema audiences in Europe and for distribution to other venues around the world.
"We needed instruments that would operate reliably in our current HD-SDR production environment and in the 4K-HDR standard to which we aspire," comments ROH Media broadcast engineer and production mixer Mark Thackeray. "The Royal Opera House in London has been broadcasting live to cinemas in 5.1 surround sound for 10 years. In any one season we transmit 12 or more productions.
"Our first 4K-HDR project was a documentary in 2017 for NHK. Leader lent us an LV5490 portable waveform monitor for that production as we needed the ability to capture, monitor and deliver Rec. 2020 wide color gamut video. The instrument functioned well both as an engineering reference and with its intuitive CINEZONE and CINELITE toolsets which are particularly useful during live production.
"For permanent installation, we decided on two LV7300 rasterizers which provide a full set of 12G/3G/HD/SD-SDI measurement facilities that our production staff can view on a larger display screen. The instruments are useful both to ensure accurate color matching of camera channels and for ensuring that we are delivering the best possible signal quality right through the production chain."
Leader LV7300 rasterizers provide a wide range of SDI facilities engineering-related features including test pattern generation, closed-caption monitoring, CIE color chart, high dynamic range measurement, focus assist, customisable screen layout, tally interface, 4K/UHD operation and 12G-SDI interfaces. They also incorporate Leader's intuitive CINEZONE and CINELITE which are familiar to many camera crews, editors and colorists. A focus detection algorithm enables the LV7300 to sense edges across a very wide range of image contrast levels.
www.leader.co.jp/en
Top Related Stories
Click here for the latest broadcast news stories.