Broadcast News
14/02/2020
Considerations When Deploying Cloud Technology In The Broadcast Industry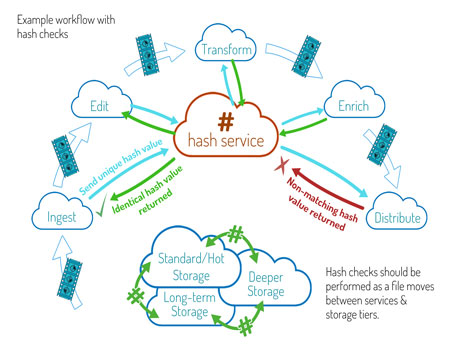 Central to modern cloud strategy is the ability to integrate best-of-breed tools into a system that best fits the individual needs of a specific enterprise. While lots of effort is usually focused on the selection of individual components, such as ingest, edit, transformation, storage, enrichment and distribution the more fundamental processes that knit these highly specific but disparate functions are often overlooked. These processes are responsible for moving content between cloud services with complete integrity in a functionally transparent, publicly opaque, secure fashion.
First and foremost, is data integrity. You do not want your content unintentionally modified or corrupted as it bounces back and forth between your carefully selected services, whether those services are storage, transcode or distribution. Typically, we spend a lot of time and energy choosing a transcode service that delivers the best picture quality. However, this is meaningless if the file is corrupted going into or out of this service.
Every file-based process in your content production and delivery chain should include the ability to check hashes on ingest, generate new hashes for modified content, and pass these new hashes to the next step in the process so the verification process can continue. The hash-checking is transparent to users unless and until a file is corrupted or changed in some unexpected manner, at which point the workflow should stop or retry until the error is cleared and the hashes match. This can save enormous amounts of time needlessly trouble-shooting services when a transfer or storage process has created an error.
The use of cryptographic-grade hashes brings along the benefit of security against intentional modification of media files that might not otherwise be detected. For instance, hashes for different versions of files will not match. The hash of a "G" rated edit of a movie will not match the hash of the "PG" version, and one cannot be substituted for the other without raising an error. In surveillance applications, a hash means that content cannot be selectively added or deleted, and the chain of custody can be protected and audited.
Because it may be expedient from a time and cost perspective for content to travel across the public internet between services, connections between services should be encrypted. This protects the confidentiality of the media and information as well as blocks access to services without proper encryption. Failure to encrypt a connection immediately prohibits use of the service or even session-based process authentication. Such encryption is transparent to appropriately credentialed end-point processes and users, but completely opaque to anyone trying to monitor traffic anywhere in between.
In a perfect world, it might be enough for these individual processes to monitor their own performance and compliance, but in the real world a problem remains of how much trust to place in individual services to self-report performance. For instance, a cloud storage service might advertise a very high degree of data integrity, but would you not feel a bit more comfortable with your PB's of storage under management if there was the ability of another service to periodically check hashes that were generated at the time of ingest against those of files in deep, cold cloud storage – in essence proving that what the cloud service says is stored is in fact, bit for bit, what was originally ingested?
We need to make sure we spend as much time considering how services are integrated, checked and audited as we do choosing them for their best-of-breed attributes.
We need to ensure we spend as much time considering how we robustly integrate and orchestrate our best-of-breed cloud services as we do selecting them based on the quality of their individual features.
Mike Palmer is CTO of Masstech Innovations – a company that specializes in thoughtful orchestration of storage services, technologies and advanced workflows.
www.masstech.com
This article also features in
Broadcast Film & Video
Top Related Stories
Click here for the latest broadcast news stories.