Broadcast News
29/01/2020
"Cue Cards On The Go Gives Us Freedom", Says Finnish Broadcaster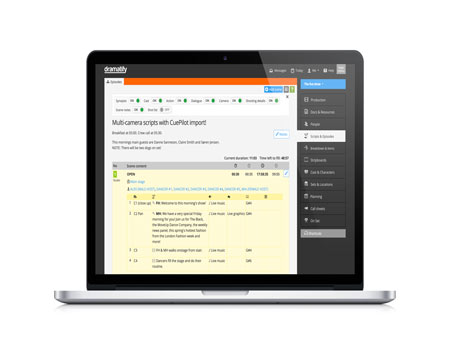 Finnish broadcaster YLE is revolutionising their show workflows with the Dramatify production platform. The latest addition is cue cards, both digital and for print, integrated with rundowns and teleprompter exports in one fast workflow.
"Most of the hosts write the dialogue themselves or at least want to change some words, often on location, and half a minute before the live show. Cue cards on your mobile device give us the freedom to write and rehearse dialogue on the go, even on a bus. The whole crew can see the rundown online when the host or the scriptwriter wants to change something, even during the live show," says Rami Lindholm, show director at YLE.
Superflexible rundowns
The core is Dramatify's innovative and flexible rundowns that allow each show to customise them for their particular requirements, as well as allowing each user to show and hide information for their specific needs. Segment functionality keeps shot information inline for maximal clarity.
The rundowns have a view for the technical rundown as well as a script view allowing scriptwriters and journalists to write in a familiar wordprocessor-like interface.
Integration with Cue Pilot vision mixer shot lists
For music and talent shows, shot lists from the Cue Pilot vision mixer can be imported to keep all information in one place and give directors a complete overview.
Fast export to teleprompters, subtitling and close-captioning
By tagging scene content such as dialogue and scene action, writers are preparing cue cards, as well as text exports for teleprompters, subtitling and close-captioning, as they write and edit.
Digital cue cards, or print straight to paper
Dramatify's new integrated cue cards are made both for digital use on tablets or smartphones, as well as for several different paper sizes. Each alternative comes with five different text sizes and four different font options.
"We use teleprompters in the studios. But in concert halls, venues or even shooting in the middle of a forest, it is not always possible to use them. That's where the cue cards come in," says Rami Lindholm and continues: "Sure, the older hosts want to have paper, but the younger hosts prefer mobiles."
Fully digital workflow
"We can not even think about a life with spreadsheets or word processor rundowns and scripts anymore. With online rundowns and scripts, the whole crew have a realtime picture of the production. Even if Finland is one of the top producers of paper products in the world, we want to reduce the use of paper in our productions," Rami Lindholm concludes.
Facts
• The Dramatify platform includes the workflow from rundowns and scripts through cast, sets and locations to scheduling, call sheets and reporting.
• Dramatify works for entertainment, current affairs and factuals, as well as drama.
• The Dramatify platform is accessible online and does not require any download or installation. It can be used by single productions as well as production companies and broadcasters.
www.dramatify.com
Top Related Stories
Click here for the latest broadcast news stories.