Broadcast News
02/03/2018
Barix To Show Final Shipping Version Of Redundix At 2018 NAB Show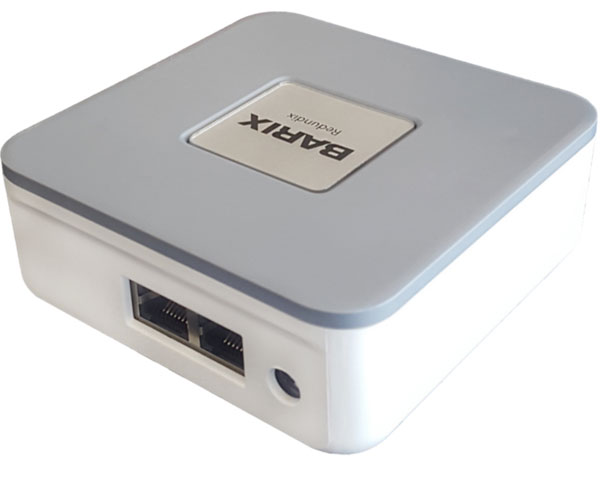 Barix is set to unveil the final shipping version of Redundix, its cost-effective solution that automatically corrects glitches and failures on IP STL connections, at the 2018 NAB Show.
Redundix is to be demonstrated alongside Barix's Audio over IP codec solutions for broadcast at the Las Vegas show on 09 - 12 April.
Redundix adds resilience to IP-based transport by either time-delaying two streams on the same network, and/or sending a redundant stream over a separate path. On the receiving side, Redundix repairs lost packets in the stream caused by transport network imperfections using the time or path redundant streams. The result is better audio quality because lost packets are repaired, and audible imperfections are significantly reduced.
At NAB, Barix will unveil its latest Redundix design, which now features two Ethernet interfaces and can be connected to almost every network topography. This is due to the fact that it can be used as a standalone device connected to a switch, or as a bridging device when no switch is available. This versatility and interoperability with any existing industry codec makes it a cost-effective and easy to implement solution for radio broadcasters and studio administrators.  
"Redundix offers a cost-effective and efficient way to greatly reduce the impact on audio quality caused by issues on the transport layer for STL and other Audio over IP applications," said Johannes G. Rietschel, Founder and CTO, Barix. "Redundix, like the Barix IP STL solution, can be self-configured. For total peace of mind, broadcasters can offload configuration and management as part of the Reflector Service provided by our partner, StreamGuys. We are excited to bring this innovation to market as we evolve our product and services portfolio to reduce costs, enhance security, and improve stream availability and uptime for the radio broadcaster."  
Redundix was introduced last year at the NAB Show, and has been tested extensively in live, professional environments worldwide. Trials have included a local radio station in Sicily, as well as multi-site broadcast networks in UK and USA.  
"Our customers have reported positively about the modular and easy-to-install approach of Redundix, as well the reliability it brings to mission-critical signal transport over IP networks," said Mark Schneider, technical marketing manager, Barix.
www.barix.com
Top Related Stories
Click here for the latest broadcast news stories.