Broadcast News
04/12/2019
LDI Success For Brompton Technology's Dynamic Calibration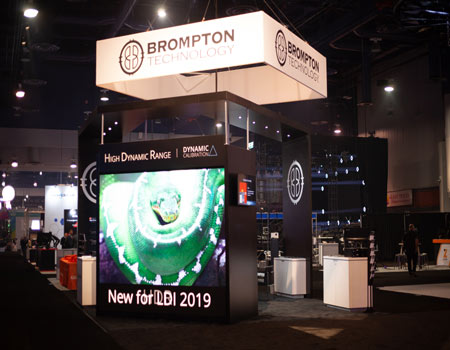 Brompton Technology's Dynamic Calibration was one of this year's LDI Show's most talked about new technologies, with more than 300 existing and potential customers from around the world passing through the doors of its showcase room.
Dynamic Calibration is a ground-breaking new technology that enables LED panels to achieve a higher brightness and wider colour gamut than is possible with legacy calibration techniques, while maintaining uniformity. Dynamic Calibration is the enabling technology for Brompton HDR, as well as new, performance-enhancing features such as PureTone and ThermaCal.
The main demo comprised 98 panels of ROE Black Pearl 2.8 provided by Brompton partner Fuse Technical Group. These were not new panels and came from a working rental stock, but had been calibrated with Brompton's revolutionary Hydra camera in the fortnight running up to the show, giving them a new lease of life and unleashing the full brightness and saturation of their LEDs.
"For the first time at LDI I understood why HDR was needed for LED screens," says LED screen manufacturer digiLED' CEO Graham Burgess. "Brompton's Dynamic Calibration allowed a five year old screen to demonstrate HDR in a way that I've never seen before. Along with the rest of the US-based digiLED team, I was blown away by the images that were presented at the launch. We can't wait to show this technology, on digiLED screens, to our customers."
Roly Oliver from UK-based rental company Universal Pixels concurs: "Thank you for a great demo. The content looked stunning and gave me a great insight into where the video industry is heading with HDR, and the ground-breaking application of it from Brompton."
Dynamic Calibration takes a unique and takes a revolutionary approach to maintaining uniformity, while unlocking the full potential of the LEDs to achieve previously unthinkable levels of brightness and colour saturation. The result is a huge step forward in visual performance for all content, but in particular HDR. Brighter whites, higher contrast ratios, more saturated colours, and true-to-life colour accuracy deliver a previously unattainable level of image depth and realism. And Dynamic Calibration is not just for new panels, it can give existing panels using Brompton's Tessera R2 card given a new lease of life.
Dynamic Calibration is enabled by Brompton's Hydra system, an all-in-one industrial solution that incorporates all the measurement instruments and processing required for panel measurements.
"After seeing the demo of the new Hydra camera and HDR it once again reconfirms why we invested in Brompton Technology's products," added Graham Northam, CTS-I / President of Canadian rental company, Apex Sound & Light. "Once again Brompton is way ahead of the competition with this technology and breathing new life into our existing inventory. All I have to say is, well done Brompton, well done!"
www.bromptontech.com
Top Related Stories
Click here for the latest broadcast news stories.