Broadcast News
02/12/2019
Building Work Starts On Gazprom's Spacecraft AIT Facility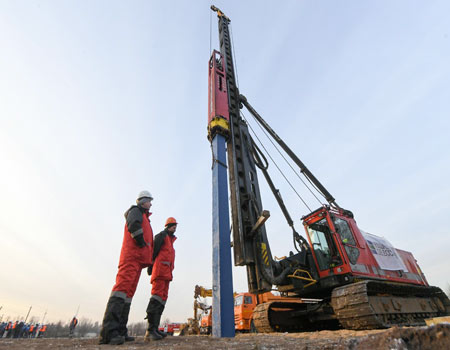 Construction work has started on Gazprom's spacecraft Assembly Integration and Test Facility (AIT Facility) in Shchelkovo, Moscow Region.
The first ever fully integrated enterprise in the history of modern Russia for spacecraft assembly, integration and tests will be situated near the Telecommunications Center of Gazprom Space Systems.
There will be produced modern world-class spacecrafts, being dedicated to civil applications for Gazprom Group companies as well as for other customers including the Roscosmos State Space Corporation. This will help, inter alia, to expand the Yamal satellite communication orbital constellation and the Earth observation satellite system – Smotr. These space systems provide for technological communication and monitoring of the production facilities of Gazprom Group companies. In addition, the production capacities are planned to be engaged in implementation of Sphere, a forward-looking program aimed at creating a multi-satellite orbital constellation to ensure data transmission on a public-private partnership basis. AIT Facility sites will be supplied with state-of-the-art and highly automated equipment. All products will undergo multistage checking procedures, with unique test benches providing simulations of space exposure and forces occurred during rocket vehicle launches.
The enterprise capacity will allow for manufacturing of up to 4 mid-sized and large communications and Earth observation satellites or up to 100 small batch-produced spacecraft per year. It is planned to bring the facility into operation in 2022, with Gazprom AIT Facility LLC as the Project operator. Up to 2035 Gazprom intends to launch into orbit 14 company-owned satellites.
In the course of the event, Dmitry Sevastiyanov, Director General of Gazprom Space Systems, and Yury Urlichich, First Deputy Director General for the Development of the Orbital Constellation and Prospective Projects at the Roscosmos State Space Corporation, signed an Agreement on the basic principles of participation in the AIT Facility Project.
The document reflects the intention of the Roscosmos State Space Corporation to acquire a stake in the authorized capital of Gazprom AIT Facility LLC. The stakes of the shareholders are to be specified in a special corporate agreement at a later stage.
www.gazprom-spacesystems.ru
Top Related Stories
Click here for the latest broadcast news stories.