Broadcast News
29/11/2019
TV Nova's Content With New Production Tools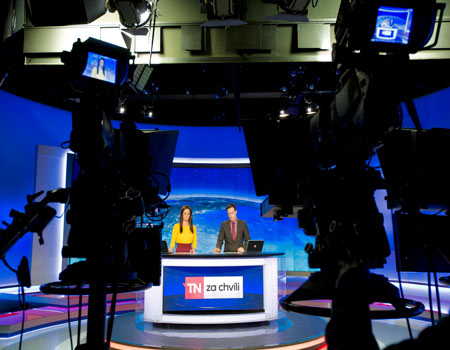 Every broadcaster who wishes to be known for their own image and style is obliged to seek the path of in-house production. To exist merely to regurgitate the content of other producers is simply to sacrifice quality on the altar of expensive convenience. Successful broadcasters, therefore, own and operate their own creative production facilities. These facilities directly control budgeting, resources and resource scheduling, scripting, the supply of talent, the organisation of staff, the production itself together with all ancillary support services, and post-production, of course.
And it came to pass that TV Nova, the most successful private broadcaster in the Czech Republic, and a member of the CME/Warner Media conglomerate, sought, not for the first time, to replace their legacy production management software package which had been so deeply customised that previous attempts at replacement were, in the end, considered unsuitable. However, the situation was calling increasingly for attention as the existing system was no longer being supported. A tender was opened and bids invited from relevant software houses. The successful bidder was Provys, famous for their flexible and highly adaptable Broadcast Management solutions, and already the supplier to Nova for their programme scheduling requirements. During the analysis phase, it became clear that considerable customisation would be required to replicate all of the existing features individually programmed as add-ons to their legacy Concorde system. These add-ons included, for example, detailed HR reporting, invoice processing, and highly appreciated, car fleet allocation scheduling. This demanded a greater consumption of time than had been anticipated, but the project teams rose to the challenge and overcame every technical obstacle. Such add-ons, of course, must be programmed and implemented with great care so as not to jeopardise core database operations which form the fundamental platform of the system. Adherence to this principle guarantees almost infinite options for future development and expansion. The next phase, to be completed in the very near future at Nova, will be the addition of a budgeting and controlling tool, keenly awaited by the finance division.
"The scope and complexity of this project were quite unusual and made more difficult by the project teams both wanting to achieve 100% of all potential objectives. In so far as was humanly possible, all objectives were finally achieved at the cost of additional time, but with the benefit of total client satisfaction. A further benefit came from the high level of customisation, which basically mirrored the features of the previous system, resulting in reduced training time for the operators who quickly became familiar with the new installation," said Alexandra Kiptikova, Consultant at Provys.
As expected, a system of this scale must integrate fully with all other corporate systems. In this particular project, two interesting, and above standard integration tasks were accomplished, namely, integration with the Target payroll system and Hudebni Banka (Music Bank), a music archive solution for production purposes. This attractive integration from Provys offers simplified reporting of used audio tracks, thereby saving considerable and valuable time of creative staff.
And so, finally, the completed implementation provides Nova with complete control over production capacity planning and resource allocation, production resource management and dispatching, and production resource usage reporting and real-cost evaluation. And as Alexandra adds: "We want producers to work within a stress-free environment and to have all resources under control."
www.provys.com
Top Related Stories
Click here for the latest broadcast news stories.