Broadcast News
13/11/2019
NUGEN Audio Introduces New Features To VisLM And SigMod Plug-Ins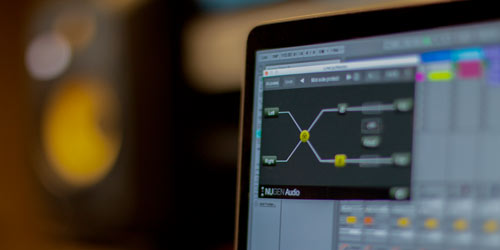 NUGEN Audio continually strives to remain at the forefront of technology, tailoring our products to the specific needs of audio professionals in the worlds of music production, audio post and more. This is perfectly exemplified in the latest updates for our VisLM and SigMod plug-ins, both of which have introduced valuable new features.
VisLM is a timecode-locked loudness meter with a built-in history function. The plug-in's instant overview paired with detailed historical analysis has led VisLM to become the de facto industry standard when measuring loudness for audio post. VisLM comes pre-loaded with a full set of international and regional presets - frequently updated to reflect changes in the industry, most recently to incorporate Netflix's own unique loudness standard - and can also be custom configured for regional or internal specifications. VisLM's ReMem function and the ability to measure faster than real time via AudioSuite have streamlined the loudness workflow for many engineers, and NUGEN is always working to improve this even further.
In September, VisLM version 2.8.3 expanded on its Alert functionality and introduced Flags. These can be set up to highlight True Peak violations, and short-term and momentary loudness overs, with easily configurable trigger points. Additionally, manually placed Flags can be used for issues which may not be picked up by the meter, such as unexpected clicks, pops and other artefacts. New controls at the bottom of VisLM's GUI allow the user to navigate easily between Flags, and the new readout in the bottom right of the History view shows precise True Peak, short-term and momentary measurements alongside a timecode which is easily traced back to the project timeline. This feature significantly speeds up the process of working through a project and manually correcting loudness errors, giving VisLM an even more informative visual display than ever before.
SigMod is a kind of "utility belt" plug-in which allows users to build custom signal architecture via 12 simple single-process modules. Some of those modules are designed to complete utilitarian tasks which might be missing from the channel strip in certain DAWs - a phase flip and mono checker, for example. Others are designed to push the DAW beyond its intended capabilities; the Tap and Crossover modules allow for previously unprecedented parallel processing options, including the ability to create an FX send midway through a chain; the Mid/side module allows any stereo or multi-mono plug-in to be used in mid/side mode when placed on either side.
At the start of 2019 the Insert module was introduced, allowing users to access plug-ins which aren't supported in their DAW by using SigMod as a "wrapper". Initially this was limited solely to VST3 plug-ins, but version 1.2 added VST2 and AU support, as well as a wet/dry control for even more parallel processing options. These updates have greatly expanded the pool of plug-ins users can access, allowing even further creative freedom.
VisLM and SigMod are both available as AAX, VST2, VST3, AU and AudioSuite plug-ins, in both 32 and 64-bit. VisLM is also available in RTAS format (32-bit only) and as a standalone application.
www.nugenaudio.com/bfv
This article is also available on
BFV online
Top Related Stories
Click here for the latest broadcast news stories.