Broadcast News
07/11/2019
Meet The Colourist – Andy Elliott At Directors Cut Films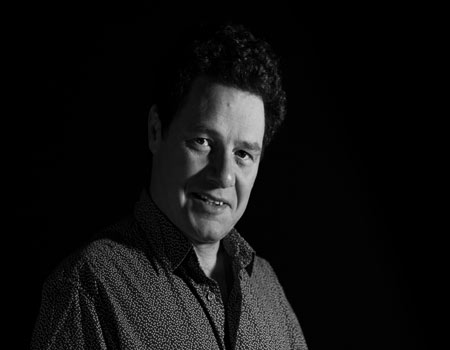 Andy Elliott is one of the founders of Directors Cut Films in London, as well as its Senior Colourist.

Andy has worked as an offline editor, then an online editor, and has now been grading exclusively for over 10 years. He works across all genres, completing Directors Cut's first 4K drama feature in late 2018. He graded the BAFTA award-winning Basquiat: Rage to Riches documentary for the BBC and two of the winning programmes in the 2019 Broadcast Awards, including the Emmy award-winning The Fight for Mosul, directed by Olivier Sarbil.
A keen stills photographer, Andy has huge experience with both documentary and drama productions and draws on his offline and online editing skills to ensure the most efficient outcome, both technically and creatively.

How did you find your way to the colourist's chair?
I started out as a labourer on a building site. I escaped to become a runner and tape op, which gave me the chance to learn editing and I went from online edit assistant to offline editor to freelance editor.
With some colleagues, I started the editing facility Directors Cut Films in London's West End in 1999. Being owned and run by editors, the Directors Cut team felt we knew what was required to meet and exceed expectations in the post-production marketplace.
As our post-production services expanded, we recognised that we needed to offer dedicated grading facilities. Having always been fascinated with grading, I became a colourist.

What sort of projects do you handle?
Most of our work is long-form television, but we do work on drama series and feature films, too. Recently we finished a commercial for Port Ellen Whisky, which was good for a lover of Islay malt.
I guess we have quite a reputation in documentaries. A couple of interesting recent projects were Everything is Connected: George Eliot's Life, made by Turner Prize-winning artist Gillian Wearing, and Climate Change: The Facts with Sir David Attenborough.
I enjoy working on documentaries because there is a lot of work to do! I have known a 45-minute programme with 2500 shots, from maybe 10 or more different cameras, all set up differently. Making them match and also giving them a strong look in a single day's grade is a real challenge. When I did my first proper BBC drama series, I was astounded that the raw footage came in well-lit and already matched.

When do you get involved in a typical project?
I usually get involved pre-shoot, and discuss the cameras and lighting. That gives us the chance to talk about the workflows and any VFX that may be needed.
I recently graded an episode of the award-winning documentary series Dispatches for Channel 4. I listened to the director's view on what he thought the film should look like and how the archive should be integrated.
For this episode, Britain's Hidden War, we watched the film and together we set looks for each chapter in the story. Then the director left me too it. Overall, I felt the look should be real, but not too "happy" – it was a dark subject, even though much of the material was shot in the sun.

What do you like about Baselight?
We have just installed version 5.2 and, so far, it seems great – though I have not had the chance test out all the new bells and whistles yet.
I generally kick off using Film Grade and Base Grade to get the basic look. I use tracking a lot for masks used in handheld footage where, say, a vignette is added but you don't want it to look like a stuck-on effect, so it has to follow the camera movement naturally. I'm also liking Texture Equaliser as a sharpener.

What are your three favourite things about Baselight?
The look, the speed and the AAF workflow.
I think the end result is significantly better with Baselight. The speed at which I can get through a film has improved and this in turn gives me more refinement time in a given booking slot.
The AAF workflow is a godsend at the end of a grade. It's just so much faster and efficient than rendering new media. The online editors can load the grade immediately and, as the grade is not 'baked in', it is infinitely tweakable if needed.
So, if there is, say, an additional piece of interview, the grade can be lifted from a previously graded shot and dropped onto the new one in the online timeline. This is especially useful in current affairs programmes that are cutting right up against tight transmission deadlines.

How much of your week do you spend 1/managing, 2/grading or 3/getting involved into the editorial-finishing workflow?
I realised long ago that to be really dedicated, you couldn't manage and grade at the same time. My trusted partners do most of the company management, as I try to focus solely on grading. We have regular catch ups, but when it's really busy it can be 7 days a week and long hours. You can't stop to manage in the traditional sense as your client would become annoyed.
As mentioned, I try to be 100% focused on the grade, however large or small the job is. I make sure the client is happy with what they want if they are unable to attend the grading session. One can interpret the descriptions of looks differently, so I like to discuss the look of a project by actually seeing it on the screen with the client and then agreeing the way forward. I will discuss the editor's thoughts too and together with the online editors, I will discuss the workflow and any issues that may be involved in achieving looks that may, for example, incorporate a lot of effects.

You have recently given your grading room a refresh, including a new Baselight TWO workstation and Blackboard 2 panel. The room is now ready for HDR and 4K – do you see that as a big part of the future?
Pretty much all of the programmes that are cut here at Directors Cut will go through Baselight for their grade. Currently we are working on an HDR version of The Runaways feature film we recently completed.
For me, HDR produces much more of a positive visual impact to the viewer than, say, going to 4K. It is a big difference, but subtle too, with real benefits regarding the enhanced immersive experience to the viewer.

Which artist inspires you the most and why?
I'm becoming increasingly interested in all artforms as I grow older. Any artist that produces something has my admiration. I can look at a piece of architectural design and think 'wow' just as much as I might be gobsmacked by a painting or a piece of music. What interests me most is light. I'm a very keen photographer. I used to look for good pictures to take. Now I look for light. So, I suppose the artists that spring most immediately to mind are Turner and Rembrandt for their treatment of light.

Do you have a particular goal you would like to achieve by the end of your career?
The way I see it, however hard you work at it, you are in a pretty privileged position to have a career involved in filmmaking. I had a few fairly rough jobs before I got into this industry and at the time I could see no way into a creative career. For me, every day grading is a day where, in another life, you could be being bombed to bits and starving to death in some warzone country, so whatever the future holds, that's my outlook.
Top Related Stories
Click here for the latest broadcast news stories.