Broadcast News
23/10/2019
Matthews Redefines Rugged Movement On-Set With Rock n' Rollers Wheel Sets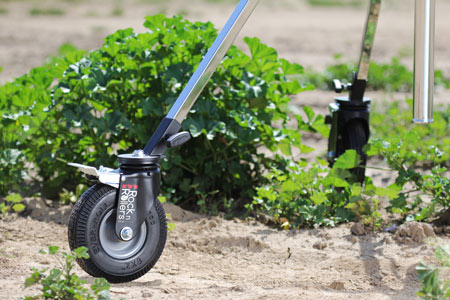 Matthews Studio Equipment turns 50 this year and like any spry 50-year-old, they're thinking about ways prevent back ache.
To help their contemporary and beginner grips, gaffers, Steadicam Ops, DITs, and Video Village Assistants Matthews created the Rock n' RollerTM Wheel Sets.
"Use the wheels!," announces Creator, Product Specialist, and Best Boy Grip Martin Torner.
The tires are 2" wide with an 8" diameter and made of low maintenance solid foam, making them puncture free with added stability. With 360 degree rotation, the wheels maneuvers in any direction while also manufactured to maintain a straight line when rolling across the set. The brake is a dependable, face locking pedal brake with an adjustable pad that will ensure locking strength through the life of the wheel. It is a total locking mechanism that locks both the rotation of the wheel as well as the swivel of the caster. The round design of the top plate saves your feet, keeping pointy corners out of the way when engaging and disengaging the brake. Matthews includes their custom Spring Steel Sleeve, which attaches the wheels to the stand without damaging the legs.
There are three different sets for every situational need. One set pairs with the Monitor Stand II and Slider Stand set, which are popular with Steadicam Ops, DITs, Video Village Assistants and Dolly Grips and roll over any cable nest on set. Another set pairs with Matthews Combo Stands—or any stand with a 1" square tube leg—which means pulling less people on set to move an 18K light, getting the next setup done faster. And then there's the Mombo Combo set (also works with any 1 ½" square tube leg stand) which means no more breaking down huge overheads to move it only a couple feet—just grab two grips and roll that overhead into place. No matter the brand of your stand, the Rock n' Rollers
"I love that Matthews thinks like I do," adds Martin. "These Rock n' Rollers were created to be an investment for our customers without needing any extra space on a grip truck. They're going to save your back, your feet, your time, and last longer than any wheel kit on your truck."
www.msegrip.com
Top Related Stories
Click here for the latest broadcast news stories.