Broadcast News
23/09/2019
Aveco And ETC Bharat Scoop Prestigious Award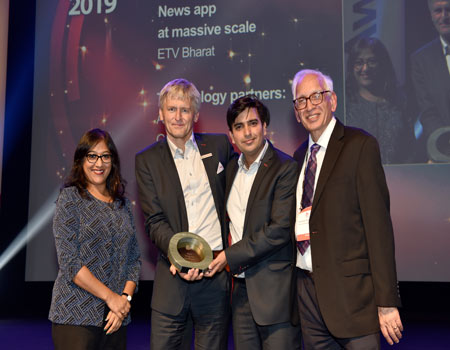 Aveco® along with its customer Hyderabad-based Ramoji Group's ETV Bharat App in India, have been awarded the 2019 IBC Innovation Award in the Content Everywhere category for the automation system that drives the 24 studios and 24 full time news channels in 13 languages for mobile news consumption.
The award was presented for the 'News App At Massive Scale' to Pavel Potuzak, Aveco CEO; Kulvinder Singh, Aveco VP Sales for SAARC (South Asia Association of Regional Cooperation); and N.M. Mehra, Vice President, Technical, for system integrator VTI during the IBC Awards ceremony.
Launched on March 21, 2019, the ETV Bharat app provides the ability for users to 'drill down' from national news to news from 29 Indian states and then to 725 districts across the country for hyper-local content. With over 5,000 mobile journalists (MoJo) trained and empowered with state-of-the-art mobile news reporting equipment, and with Aveco's production control room (PCR) and master control room (MCR) automation managing the dynamic workflow for all 13 language versions, the efficiency of news production at ETV Bharat is exceptional.
www.aveco.com
Top Related Stories
Click here for the latest broadcast news stories.