Broadcast News
19/09/2019
Shure Announces Autograph As 2019 Pro Audio Partner Of The Year Award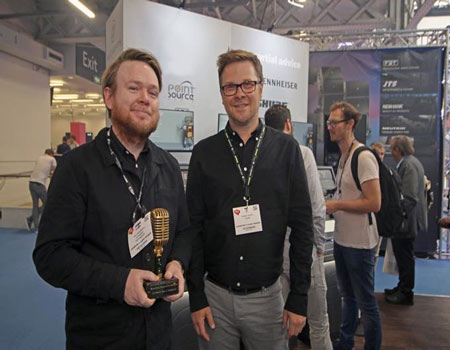 Shure UK has announced Autograph as its 2019 Pro Audio Partner of the Year award.
The award was presented at the PLASA show 2019 by Stuart Moots, Associate Director UK Pro Audio Group, as part of their annual program to acknowledge the exceptional work carried out by Shure partners each year.
This year's award was presented to Autograph Sound Recording for their exceptional dedication and commitment to wireless best practice that delivers results at the highest level.
"Autograph were an early adopter of Axient Digital and have been a great ambassador for digital wireless technology," said Stuart Moots, UK Pro Audio Director. "They've shown unwavering commitment to delivering first-class results at a time when the RF landscape remains challenging - particularly in highly congested spaces like London's West-End. Autograph deliver everything we expect from a Shure partner, and more; it's easy to see why so many theatre productions call on them to deliver. They are a great team to work with and we look forward to building on this year's success."
Will McGonagle, Hire Manager, Autograph commented: "We are delighted to be named Shure's Rental Partner of the Year for 2019. Axient Digital, and in particular, the ADX1M transmitters have very quickly become a crucial part of our inventory. Along with the PSM1000 IEMs and countless microphones you will find now Shure in every theatre you find Autograph."
www.shure.co.uk
Top Related Stories
Click here for the latest broadcast news stories.