Broadcast News
02/09/2019
Gravity Media Acquires Chief Entertainment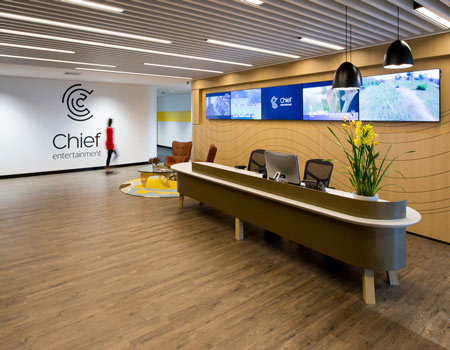 Gravity Media has acquired Chief Entertainment Pty Limited, a leading Sydney, Australia-based provider of live studio and production services, from Telstra Corporation Limited.

Gravity Media already operates in Australia under the Gearhouse Broadcast, HyperActive Broadcast and Input Media brands and this acquisition will complement the existing Input Media production centres in the UK as well as its Melbourne production and Sydney post-production facilities. The transaction was completed on Friday 30 August.

Chief Entertainment is an innovative television and digital production company based in Artarmon on Sydney's north shore. Chief's 50 staff provide production services and digital media delivery services to leading TV networks, sporting federations, entertainment franchises, agencies and commercial brands. With Telstra fibre connectivity in and out of the building, Chief Entertainment can send and receive content anywhere around the world at a moment's notice. Chief produces short and long-form programmes for both live and post-produced, as well as branded content and commercials.

Chief Entertainment will continue to operate under its existing name and branding until it is fully integrated with Gravity Media's Australia operations. Under its new ownership, Chief Entertainment will continue to provide Telstra Corporation Limited with high quality production services for its enterprise division, digital sports rights and media services.

Chief Entertainment's services include:
Live studio based short-form and long-form program productions
24/7 broadcast TV channel play-out and management (FTA, Pay, IPTV)
High quality video production services, post-production and motion graphics for branded content and television commercials
Live Outside Broadcast (OB) television production management services.
Live event streaming and distribution management services.
Catch-up TV encoding and publishing services
High quality live streaming and Video on Demand encoding for online, IPTV, and apps
Secure video encoding and digital media content management services.
This is the fifth acquisition that Gravity Media has made since securing substantial investment from TowerBrook Capital Partners in September 2016. In 2017 it took over leading sports production company Input Media, to enable the business to offer end-to-end solutions including high-end production and technical facilities, and Australian communications solutions company Stranger Designs to expand its event communications offering. In March 2018 it bought Genesis Broadcast Services and immediately rebranded it as Gearhouse Broadcast Germany to serve the production markets of Northern Europe. In July 2018 it acquired Proshow Broadcast, a leading supplier of mobile production solutions to broadcasters, producers and rights holders throughout the USA and Canada, which has since been successfully integrated into Gravity Media's Gearhouse Broadcast USA operations.

Chief Entertainment's key facilities at its Artarmon base include:
Two 100m2 HD studios and control rooms
A live event master control and presentation suite
Live broadcast and data fibre connectivity
Eleven HD/4K edit and design suites
An Avid Protools 5.1 audio post production suite
Make-up and green room facilities
Production office space.
Top Related Stories
Click here for the latest broadcast news stories.