Broadcast News
26/09/2013
Telemetrics New Innovative Camera Robotics And Control Systems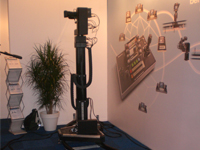 Telemetrics is displaying a host of innovative and cost-efficient camera robotics and control systems here at IBC 2013. Additions to the company's product portfolio include a new camera track system plus two new control software platforms that open up new avenues for studio design and centralized control with extreme cost-efficiency. Additionally, Telemetrics announced technology partnerships with NewTek and Unreel aimed at further facilitating easy and seamless integration with these companies' popular production solutions.
"Broadcast and production management are tasked more than ever before to implement technologies that enhance their capabilities and that are extremely cost-efficient. Our new camera robotics and control software systems are specifically designed to meet the needs of today's market with the greatest levels of performance and economy," said Anthony Cuomo, President, Telemetrics Inc. "In addition to our innovative new product introductions, we are also proud to announce that we've partnered with industry leaders NewTek and Unreel to facilitate the easy and seamless integration of our camera robotics systems with their best-in-breed production solutions."
New products include:
TG4 Teleglide track system provides the ability for either ceiling or floor mounting with curved track sections and stable support for elevating/lowering Telemetrics' Pan/Tilt Heads via Telemetrics Televator Elevating Pedestals. The TG4 is full servo controlled, providing accurate preset positioning and repeatable motion as well as integrated cable management and soft electronic end stops. Additionally, the TG4 is smoother and quieter than previous systems as well as any competitive track systems on the market today.
Enterprise Database Control Software (EDCS) delivers enterprise level camera control across multiple studio camera robotics systems via the network by utilizing a SQL database with configurable access control. With EDCS, all aspects of camera robotics control can be cost-effectively centralized and managed for true enterprise level operations.
TeleSoft Camera Control Software provides the power of a fully featured studio control system for economical PTZ cameras from various manufacturers on a common system. TeleSoft is designed to control Telemetrics pan/tilt heads as well as third party PTZ cameras.
Additionally, Telemetrics announced technology partnerships with NewTek and Unreel to facilitate easy and seamless integration of Telemetrics camera robotics systems with these companies' popular production solutions. NewTek TriCaster™ is an all-in-one, integrated live production system that offers the power of a live network studio. When it is paired with live streaming over the Web, anyone can create and share a professional TV show. Students, premiere broadcast networks, major league sports networks and teams, along with some of the world's biggest corporations, use TriCaster to produce and stream live events and expand their audiences. Unreel is an industry leader in Augmented Reality and Virtual Set solutions for broadcast, web and on-set visualization for feature films. Unreel's UX (Xperience) software delivers unprecedented control of AR and VS elements in an intuitive touchscreen interface enabling Telemetrics and other best-of-breed technology providers to deliver tailored customer solutions.
Telemetrics
(MH/CD)
Top Related Stories
Click here for the latest broadcast news stories.