Broadcast News
28/06/2019
London's Riverside Studios To Move Into New Building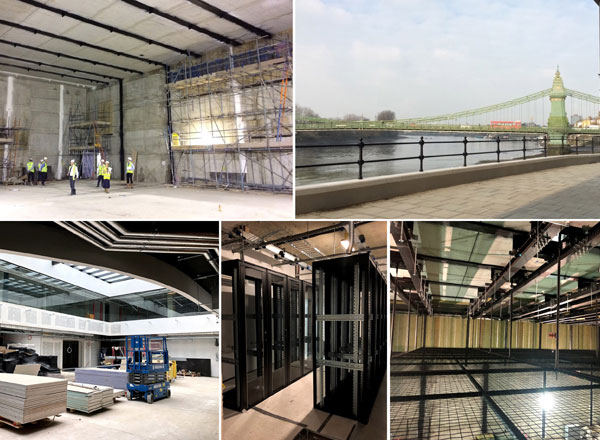 London's Riverside Studios is set to move into a new building with three flexible studio spaces for television, theatre, dance, opera, music and comedy.

ATG Danmon has begun work on a large-scale systems integration project at the site, which will see the installation and interconnection of production infrastructure.

Riverside's former studios and the neighbouring Queen's Wharf have been replaced for the new building.

"Connectivity throughout the building has driven the design of Riverside from the outset," said Duncan Stewart, Riverside Studios' Technical Director. "We have worked with ATG Danmon over the last two years to present our new cutting-edge facilities in a way that is reassuringly familiar to the freelancers who will be working with us in the future."

"We are working across all three floors of the new building," added ATG Danmon Project Manager Howard Dixon. "Our role is to integrate the technical systems in all the key production areas including the control gallery, lighting control room, audio control room and central apparatus room. The equipment itself is mostly new acquisitions, supplemented by some from the former building. A key element of the project is the interconnection of 42 positions at various locations, including triax and SMPTE camera cabling, video, audio and data cabling, fibre tie-lines and low voltage power cables for facility boxes. Construction of the building is ongoing so we are liaising closely with both the Riverside technical team and other contractors on site."

"We are pleased to have been chosen to partner with Riverside on this very high profile new project," commented ATG Danmon Managing Director Russell Peirson-Hagger. "Multi-function venues of this type are becoming increasingly popular around the world and this looks set to be one of the most advanced of its kind in the UK."

The Riverside site dates back to 1933 when the Triumph Film Company acquired a former engineering works and created two large sound stages. The BBC bought the site in 1954 and converted it into the country's first purpose-built television facility. The facility was in continuous use until the early 1970s, its rooftop camera position providing one of the best vantage points for the annual University Boat Race. In 1975, a charitable trust formed by Hammersmith and Fulham Council took control of the building. Soon afterwards, two large multi-purpose spaces were shaped by architect Michael Reardon from the two main sound stages, to be used for a mixed programme of live theatre, music, dance and film.

A four year redevelopment of the site has entirely rebuilt Riverside Studios whose facilities occupy most of the ground floor and parts of the basement, first and second floors. The venue will play host to contemporary performance, film, visual art exhibitions and television production. Its largest studio, Studio 1, has a floor space of over 600 square metres with a seated audience capacity of 400. The facility will be able to capture productions in UHD or transmit live to BT Tower.
More Studios Stories