Broadcast News
09/04/2019
Bluefish444 Brings I/O Cards And IP Streaming Software To NAB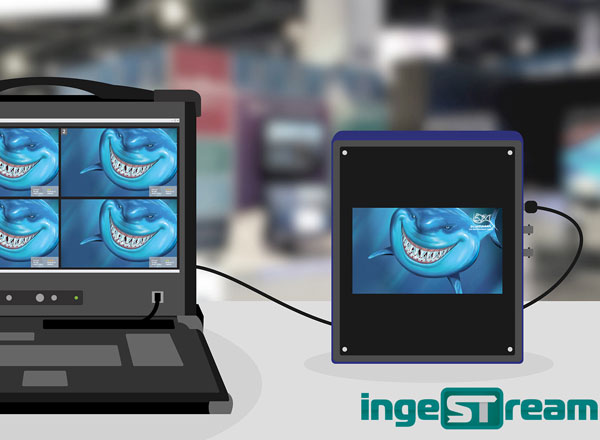 Bluefish444 has brought its latest products and solutions to this year's NAB Show, previewing its forthcoming IngeSTream IP streaming software and new KRONOS K8 video I/O card.

The company is preparing to release its IngeSTream IP streaming software in the second half of 2019. The solution allows for capture of up to eight channels of video and audio from Bluefish444 Epoch and KRONOS hardware, and converts them to NewTek's NDIⓇ IP stream, with other protocols SMPTE 2022-6, SMPTE 2110 and RTP/RTSP to be included in future updates.

IngeSTream is being demonstrated on stand SL9021 at NAB Show 2019, streaming live 4K SDI video as an NDI signal to a NewTek TriCasterⓇ Mini.

Also on display at NAB is the company's KRONOS K8 video I/O card, which supports eight independent channels for 2K/HD/SD and multi-channel 4K, high dynamic range and high frame-rate workflows, with eight 3G-capable HD-BNC connectors, four bypass relays, four internal keyers, and the same 12-bit processing that drives every Bluefish444 I/O card, to ensure maximum video quality. Optional auxiliary connections can be added to the KRONOS K8, allowing unparalleled flexibility of digital and analogue audio, linear time code and RS-422 I/O.

Scheduled for release in Q2 2019, K8 is the ideal card for all areas of media and entertainment requiring the reliability and flexibility of SDI video I/O. Post-production, broadcast graphics, live production, live events, IMF/DCP quality assurance for SDR and HDR, multi-channel display, archive and restoration, and virtual or augmented reality workflows all benefit from KRONOS K8.

Industry developer partners are already adopting the Bluefish444 KRONOS range via pre-production hardware and the Bluefish444 Software Development Kit.

Over the coming months the KRONOS range will see further adoption of industry-standard, third-party applications already supported by the Epoch range, including software from Avid, Adobe, Marquise Technologies, Vizrt, Brainstorm, Medialooks, plus many more.

The K8 will come bundled free with IngeSTore software for multi-channel capture and the Bluefish444 SDK for developers wanting to integrate with KRONOS. The forthcoming Bluefish444 software, IngeSTream, will also be bundled with K8 for multi-channel streaming to SMPTE 2022/2110, RTP and NewTek NDIⓇ protocols.

Bluefish444, will also demonstrate Video Input and Output support for Epic Games' Unreal Engine 3D at the Las Vegas show.

They have been working closely with Epic Games and industry partners to integrate support for Bluefish444 video I/O interfaces into the Unreal Engine via the marketplace. The Bluefish444 professional video SDI interface to the Unreal Engine provides workflow solutions for virtual sets, VR and AR, pre-visualisation, visual FX workflows and esports.

A technology demonstration of Bluefish444's support for Unreal Engine will be given throughout NAB show 2019, with a collaborative workflow supported between Epic Games, NVIDIA®, HP and Bluefish444. Unreal Engine will be used to generate real-time renders of virtual sets, in-game experiences and photo-realistic images powered by the Hewlett Packard Z8 G4, and an NVIDIA Quadro RTX™ 6000 enabling hardware-accelerated ray tracing with the final SDI/HDMI output from the Bluefish444 Epoch | 4K Neutron.

"Working with Epic Games to plan and develop support within the Unreal Engine has been great," said Tom Lithgow, Bluefish444 Product Manager. "Bluefish444 have a lot of experience in providing professional video interfaces for broadcast graphics workflows, and will soon bring some of the lowest latency, highest quality video I/O hardware to the Unreal Engine."
Bluefish444 support for Unreal Engine integration is planned for release in Q3 2019, with full support for Epoch and KRONOS video hardware. Bluefish444's support for Unreal Engine will be demonstrated at NAB Show 2019, with a live rendering output via Bluefish444 SDI and HDMI.

Bluefish444 is demonstrating its range of products and solutions on stand SL9021 at NAB Show 2019.
Top Related Stories
Click here for the latest broadcast news stories.