Broadcast News
09/10/2014
Bluefish444 Announces Epoch | 4K Neutron and Epoch | Neutron Availability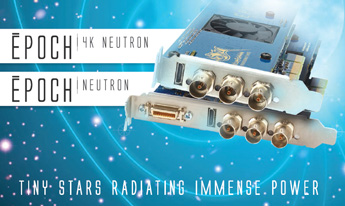 Bluefish444 has announced the immediate availability of the Epoch | 4K Neutron and Epoch | Neutron video cards.
The Epoch Neutron cards adopt a new form factor, allowing for integration into a range of chassis. The low profile, half height form factor allows both cards to be installed into low profile servers, small form factor (SFF) computers and low profile Thunderbolt expansion chassis. Full height shield options allow for integration in more traditional workstation computers and provide additional I/O requirements like AES/EBU, RS422 machine control, and domestic analogue audio monitoring.
Epoch Neutron cards are fitted with 3x industry standard BNC connectors enabling two simultaneous streams of 2K/HD/SD including video fill+key operations. Each SDI connector is programmable as input or output. The Epoch | Neutron supports 1.5G SDI I/O and the Epoch | 4K Neutron extends the support to 3G SDI I/O enabling 4K 60p I/O configurations.
An HDMI 1.4a mini connector provides a 4K/2K/HD/SD HDMI monitoring preview and allows for colour critical monitoring on consumer HDMI displays.
An interlocking connector on Epoch Neutron boards allows for multiple cards in a single server to be locked to a common sync source instead of each card needing to be locked to its own sync source.
A new low latency hardware keyer enables video layers to be combined in hardware with microseconds delay. This feature allows animated logos, captions, ticker tapes and more to be keyed over live video feeds at full 12-bit precision and with minimum latency. The hardware keyer can also function as an image pre multiplier to assist in previewing images with alpha data.
Both Epoch Neutron boards come equipped with a 12-bit processing pipeline of 8, 10 or 12-bit SDI video signals, including a 4 x 4 x 33-bit fully programmable colour matrix for the highest quality colour space conversions ensuring pristine accuracy during capture, monitoring and mastering.
Epoch Neutron video cards are fully integrated into the Bluefish444 SDK which is available across multiple platforms allowing integration into professional video applications on Windows, Linux, and MAC OSX.
Bluefish444 Epoch Neutron video cards can be integrated via the SDK into a variety of different SDI workflows. Applications include live broadcast with sports graphics overlays; compliance logging; caption systems, virtual sets, production switchers and any live multichannel simultaneous capture and playback SDI I/O equipped broadcast solution.
The Epoch Neutron boards comes bundled with a range of free software plug ins for Windows and Mac OSX platforms including Adobe Creative Cloud 2014, Avid Media Composer 8®, Assimilate SCRATCH v8.1 & SCRATCH LAB, The Foundry's Nuke and Drastic Technologies 4K Scope. The Bluefish444 Symmetry DI & 3D I/O software is bundled free together with optional Bluefish444 Fluid Ingestore and DNxHD Ingestore applications.
Epoch | 4K Neutron major features:
• SD\HD 1.5G\3G
• Dual Link\Quad Link
• Maximum Channels: 4
• 8/10/12-bit 4:4:4:4/4:2:2:4 SDI
• HDMI 1.4a
• SD/HD/2K/4K/3D Frame Packing + Deep Colour
• Genlock
• HANC/VANC
• Windows/DirectShow Filters/Mac OS X/Linux API
• v16 channels of Embedded Audio I/O per SDI
• eight Channels of AES ID3 I/O(unbalanced, BNC)
• two channels -10DBU Output (Unbalanced, RCA)
"The low profile half length form factor of the Epoch | 4K Neutron creates an enormous amount of flexibility and mobility for SDI users requiring up to 4K 60p I/O," says Tom Lithgow Product Specialist. "Customers demanding the highest quality 12-bit SDI as 4:4:4 RGB or 4:2:2 YUV video frames can now access that quality from Bluefish444 in enclosures such as a 1 RU server or low profile Thunderbolt expansion chassis."
www.polar-graphics.com
(IT/JP)
Top Related Stories
Click here for the latest broadcast news stories.