Broadcast News
13/03/2020
The Pennsylvania House of Representatives Records Proceedings With Bluefish444 IngeSTore Server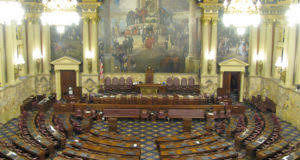 The Pennsylvania House of Representatives is located within the landmark Pennsylvania State Capitol Building in Harrisburg, PA.
Since 1993, the PA House proceedings have been recorded and shared internally and with the Pennsylvania Cable Network. In the following years, the PA House began to record and distribute content from committee meeting rooms, and by 2008 they had seven meeting rooms, in addition to the House floor, fitted with SDI cameras that feed back to their control rooms.
David Arendt, the Broadcast Director for the PA House, started researching a solution that would allow them to record from eight cameras with as little new equipment and infrastructure as possible.
David found that the Bluefish IngeSTore Server would fit their requirements and budget. IngeSTore Server supports four simultaneous channels of recording to local or shared network storage and fits neatly into a 3RU server rack. IngeSTore software has a variety of broadcast, post-production, archival and streaming codecs available, providing flexibility for recorded file formats and codecs.
"We looked at a number of products, but many were geared toward live TV production playback, or did not have enough channels to suit our needs," David commented. "With IngeSTore Server, we can record four channels at the same time on a single device, and it takes up half the space as our previous solution."
bluefish444.com
Top Related Stories
Click here for the latest broadcast news stories.