Broadcast News
25/03/2019
Ross Video To Be Living Live At NAB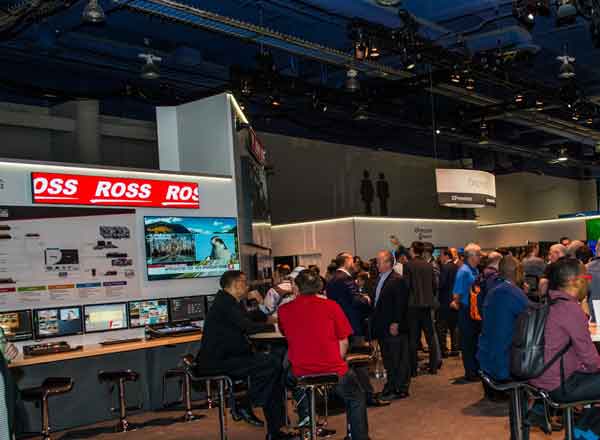 Ross Video will be Living Live at the NAB Show (Las Vegas, April 8-11th 2019) with over 9000 square feet of booth space loaded with innovative live production solutions. With the theme High Impact, High Efficiency, Ross will showcase solutions that leverage the latest technology and enable professionals working in live production to create more compelling content, more efficiently.

Ross will kick off NAB with a Sunday night Keynote and Reception, giving customers, business partners and the press an advance look at what's new for the show, along with news of company progress and the now-legendary David Ross "One More Thing" moment. To request tickets to the keynote and reception, please follow this link. Those not attending the Keynote can stream it live on Sunday night or watch it on YouTube.

Once the show begins on Monday, Ross will have a number of areas on the booth dedicated to full live production solutions and workflows, including:

• An end-to-end news production suite, demonstrating complete news workflows that comprise everything Ross from ACID and PIVOT cameras, the Inception News Room Computer System, Streamline MAM, Tria News Clip Player and XPression Graphics, Acuity Production Switcher and OverDrive production automation solution
• A massive sports stadium production zone with the latest in XPression Tessera resolution-independent graphics for LED displays and the Ross Unified Venue Control solution
• A full virtual green screen production with automated workflow, demonstrating the latest in virtual solutions and the debut of our new Voyager, Unreal 4-based rendering engine
• A 12G 4KUHD production chain supporting High Dynamic Range and Wide Color Gamut WCG video
• The Lightning control system, which simplifies legislative and assembly production
• A Camera Motion Systems demo zone featuring the latest in Furio and CamBot robotic camera systems
• IP, SMPTE-2110 Infrastructure demonstrations
• A Computer Virtualization technology demo area featuring the latest advances in virtualization for real-time live production.
• High Impact, High Efficiency Production Solutions areas centered around Ross Carbonite and Acuity production switchers and the DashBoard control platform
• Rocket Surgery, Ross Creative Services, our in-house creative, design and virtual set gurus
• Ross Mobile Production, offering turnkey, managed production services
Commenting on the upcoming show.

Ross Video will be on booth SL 1805 throughout NAB Show 2019.

More Event Production Stories