Broadcast News
19/03/2019
Digital Nirvana Introduces Media Services Portal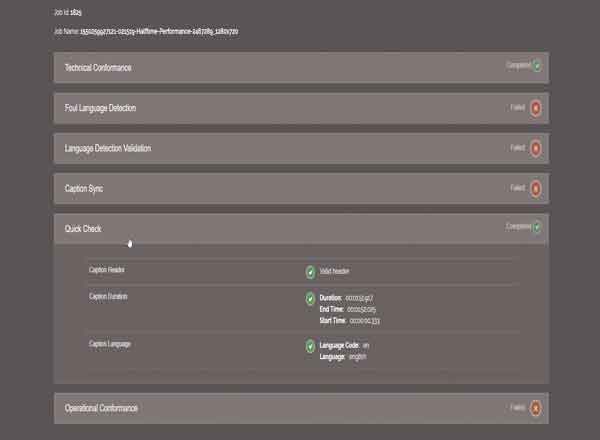 Digital Nirvana has introduced the Media Services Portal — a comprehensive, one-stop suite of solutions for meeting the full gamut of broadcasters' closed-captioning requirements.
"There are plenty of point captioning products on the market, but until now, broadcasters have had to turn to multiple sources for key functions such as caption generation, caption alignment, and quality assurance. And there's been no single portal for personalizing huge volumes of content and tailoring it to a global audience," said Hiren Hindocha, co-founder, president, and CEO of Digital Nirvana. "With Media Services Portal, we've filled that niche with a rich suite of smart, self-service tools that empower broadcasters and independent content producers to enhance content value, meet regulatory captioning requirements, and prepare content for publishing to different distribution channels."
The Media Services Portal offers a single interface for customers to access three critical captioning functions: closed caption generation; closed caption quality assurance through a multilevel checking process including realignment; and, through Digital Nirvana's Metadator, automatic closed caption generation and metadata enhancement for AVID assets together with built-in media intelligence for object and scene recognition. Plus, the Media Services Portal can be used with Digital Nirvana's Monitor IQ for immediate logging and feedback of content quality and compliance.
The Media Services Portal offers an interface through which customers can submit their job requests and access customized, flexible caption-related services that fit their business needs — including the option to upload files in multiple formats (either from the system or from S3 buckets) and submit job requests. The portal takes the submitted content through the secure Digital Nirvana captioning workflow for processing and then posts it back in the portal, along with an email notification, once the job is complete. The download option in the portal allows customers to download the processed content for future use. Users are able to add, edit, or delete content directly from the portal, which maximizes productivity and simplifies workflow. The customer is then able to upload the media file and captioned version to the portal to access services such as caption quality check and caption synchronization.
www.digital-nirvana.com
Top Related Stories
Click here for the latest broadcast news stories.