Broadcast News
23/04/2019
Digital Nirvana Receive NAB Product Of The Year Award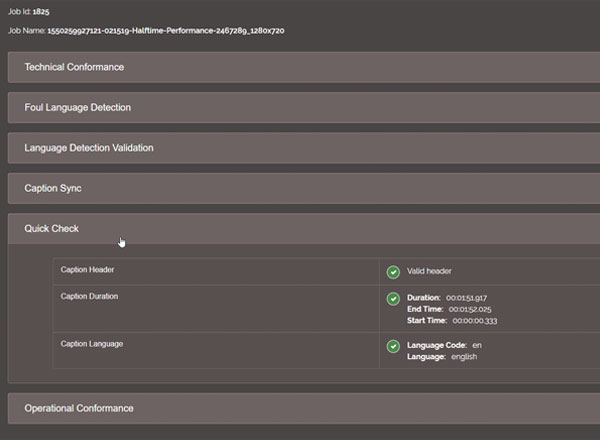 Digital Nirvana has received an NAB Product of the Year award for its all-new Media Services Portal — a comprehensive, one-stop suite of solutions for meeting the full gamut of broadcasters' closed-captioning requirements.
At the 2019 NAB Show the Media Services Portal won top honours in the AI/Machine Learning category. This portal couples with the Digital Nirvana Monitor I/Q compliance logger to provide next-generation compliance applications.
The Media Services Portal offers a single interface for customers to access three critical captioning functions: closed caption generation; closed caption quality assurance through a multilevel checking process including realignment; and, through Digital Nirvana's Metadator, automatic closed caption generation and metadata enhancement for AVID assets together with built-in media intelligence for object and scene recognition. Plus, the Media Services Portal can be used with Digital Nirvana's Monitor IQ for immediate logging and feedback of content quality and compliance.
Digital Nirvana's captioning services prepare live, postproduction, and VOD content for multiple distribution channels. Caption generation and synchronization, integrated with automatic speech-to-text technology, help create accurate, multilingual captions with flexible turnaround times. Digital Nirvana's captioning offers the ideal blend of automation for efficiency and manual intervention to ensure 99 percent accuracy. In addition, the quality check service guarantees publish-ready content for multiple digital platforms.
The 2019 NAB Show Product of the Year Awards recognize the most significant and promising new products and technologies being showcased by exhibitors at the show. Digital Nirvana and other award winners were honored at the NAB Show Product of the Year Awards Reception in Las Vegas.
Hiren Hindocha, co-founder, president, and CEO of Digital Nirvana, said: "We're very proud that our new Media Services Portal and advance Compliance Logger have already won such a prestigious award. It's proof that we're filling a key requirement for a single portal that lets our broadcast customers personalize and monitor huge volumes of content and tailor it to a global audience.
"Media Services Portal is much more than a set of smart, self-service tools for caption generation, caption alignment, and quality assurance. It's a platform that empowers broadcasters and independent content producers to enhance content value, meet regulatory captioning requirements, and prepare content for publishing to different distribution channels."
digital-nirvana.com
Top Related Stories
Click here for the latest broadcast news stories.