Broadcast News
15/03/2019
Custom Consoles Celebrates Successful SCTX Show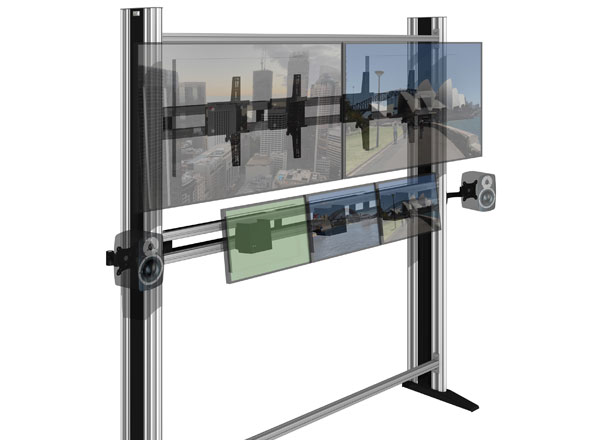 Custom Consoles has showcased the latest version of its MediaWall monitor mounting system at the Security & Counter Terror Expo (SCTX) 2019 show in London.

The company welcomed attendees to its stand from 05-06 March, delivering further demonstrations on its SteelBase range of control room furniture.

"Increasing use of remote cameras throughout the security and process control industries has generated greater than ever demand for multi-screen video displays," said Sales Manager Gary Fuller. "We expanded our exhibit floor space this year to accommodate an example of MediaWall and a SteelBase Lite desk in a classic CCTV supervision configuration. This attracted a lot of interest from visitors in the defence and corporate security sectors.

"There was a big focus at this year's show on the use of drones as aerial surveillance platforms. These generate even more video content which needs to be studied live or after the event. MediaWall is an ideal way to mount multiple flat-panel video display screens in any combination of sizes for side-by-side comparison of live or stored security feeds from any source. Originally developed for the broadcast industry, MediaWall has proved highly successful for technical control applications in security and process monitoring."

Custom Consoles' MediaWall allows flat-screen monitor displays of practically any width to be constructed from standard horizontal and vertical support elements. It can be used as a fully self-supporting structure or coupled directly to a studio wall. Individual screens can be positioned so that the edges meet exactly to form a continuous horizontal display limited only by the boundary of the monitor panel itself.

All wiring between components mounted on MediaWall is fully concealed and can enter or leave the structure at any desired point. Redesigned lateral support beams in the latest version allow display panels to be mounted even more easily than before. Cable management is in stronger and more attractively styled steel ducts rather than plastic. The supporting leg sides are now black instead of silver, matching the latest Custom Consoles Module-R desk styles. Media Wall is available in any specified element widths.

Built to withstand the wear and tear of the utilities and marine industries, SteelBase Lite desks are designed to ensure ergonomic efficiency particularly during a long working shift. The desks are attractively styled and built on extremely robust steel base frames with desktops surfaced in a choice of hard-wearing laminate or Marmoleum.

Additional design features of the SteelBase Lite range include hinged removable access doors, 19 inch equipment racking, heavy cable management, power distribution panels and variable-speed ventilation fans. Worktops can be configured to suit individual client requirements. All elements of the desks are guaranteed against component failure for five years of normal use. SteelBase-Lite is designed to conform to ISO9241 part 5, ISO11064 Part 4 and EN527 Parts 1, 2 and 3."
Top Related Stories
Click here for the latest broadcast news stories.